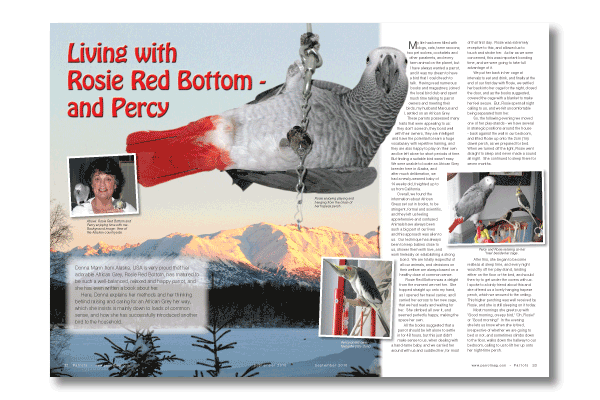 Donna Mann from Alaska, USA is very proud that her adorable African Grey, Rosie Red Bottom, has matured to be such a well-balanced, relaxed and happy parrot, and she has even written a book about her.
Here, Donna explains her methods and her thinking behind raising and caring for an African Grey her way, which she insists is mainly down to loads of common sense, and how she has successfully introduced another bird to the household.
My life has been filled with dogs, cats, tame racoons, two pet wolves, cockatiels and other parakeets, and every farm animal on the planet, but I have always wanted a parrot, and it was my dream to have a bird that I could teach to talk. Having read numerous books and magazines, joined the local bird club and spent much time talking to parrot owners and meeting their birds, my husband Marcus and I, settled on an African Grey.
These parrots possessed many traits that were appealing to us: they don't screech, they bond well with their owners, they are intelligent and have the potential to learn a huge vocabulary with repetitive training, and they are also happy to play on their own and be left alone for short periods of time. But finding a suitable bird wasn't easy. We were unable to locate an African Grey breeder here in Alaska, and after much deliberation, we had a newly-weaned baby of 14 weeks old, freighted up to us from California.
Read more in the magazine…