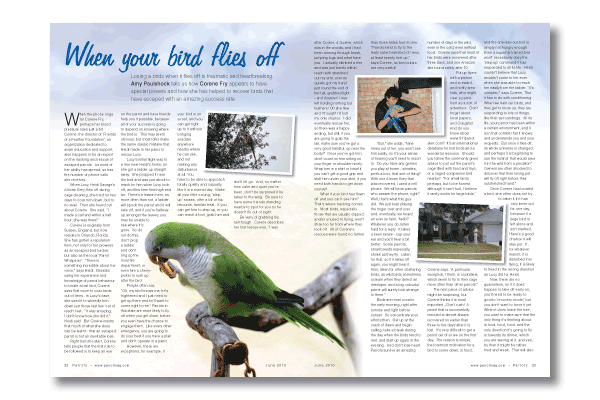 Losing a birds when it flies off is traumatic and heartbreaking. Amy Paulshock tells us how Corene Fry appears to have special powers and how she has helped to recover birds that have escaped with an amazing success rate.
When the phone rings for Corene Fry, perhaps her blood pressure rises just a bit. Corene, the director of 'Friends of a Feather Foundation', an organization dedicated to avian education and support, also happens to be an expert on the tracking and rescue of escaped parrots. As word of her ability has spread, so has the number of phone calls she receives.
When Lucy, Heidi Savage's African Grey, flew off during cage cleaning, she tried for two days to coax him down, but to no avail. Then she found out about Corene. She said, "I made a call and within a half hour, she was there!"
Corene is originally from Sussex, England, but now resides in Orlando, Florida. She has gotten a reputation here, not only for her prowess as an escaped bird tracker, but also as the local 'Parrot Whisperer'. "There is something incredible about her voice," says Heidi. Besides using her experience and knowledge of parrot behaviour to locate a lost bird, Corene uses that voice to coax birds out of trees. In Lucy's case, she used it to wheedle him down just those last few 'out of reach' feet. "It was amazing, I don't know how she did it," Heidi said. But Corene insists that much of what she does can be learnt - that an escaped parrot is not an inevitable loss.
Read more in the magazine…