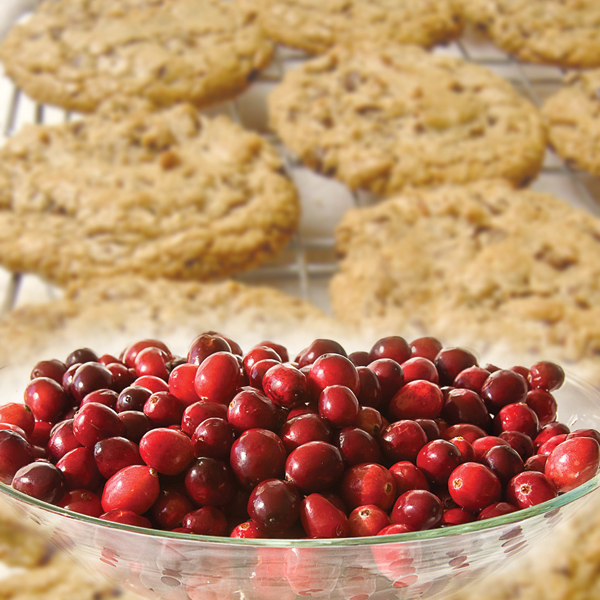 By Pauline James
Parrots absolutely adore homemade cooked treats, and it is an excellent way to get fussy eaters to try new foods.  This recipe for Cranberry Apple Biscuits is delicious, high in nutrients, and most birds won't be able to resist them, especially if you are tucking into them too!

Cranberry Apple Biscuits
Cranberries are a 'superfruit,' and have high nutritional benefits, including high levels of vitamins A, C and K, a diverse supply of minerals, are a good source of phytochemicals, and have powerful antioxidant qualities.  They are also anti-bacterial, anti-cancer and benefit the cardiovascular and immune systems.  Cranberries are closely related to bilberries, blueberries and huckleberries.

3 large egg whites
¾ cup low sugar apple juice
¼ cup low sugar cranberry juice
3 tablespoons nut/olive oil
2 cups flour (preferably wholegrain)
1½ cups quick cooking oats
1 tsp baking powder
½ cup chopped walnuts
2 cups chopped apples
3 tsp of lemon juice
 
Preheat oven to 350°F or 175°C
 
Method:
1. Beat egg whites until almost stiff.
2. Add juices and blend well.
3. Stir in oil.
4. Add flour, oats and baking powder.
5. Mix until well blended.
6. Stir in walnuts and pieces of apple coated in the lemon juice.
7. Drop heaped teaspoonfuls onto a greased baking tray or greaseproof paper.
8. Bake for 10 minutes.
9. When cool, freeze or store in an airtight container in the fridge.