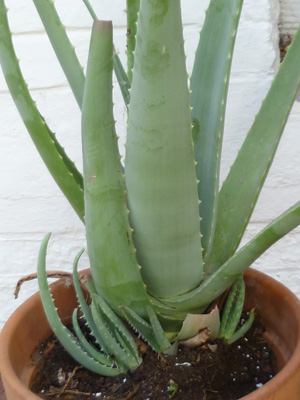 by Pauline James
Aloe vera is mainly thought of as a key ingredient in skin products, namely face, hand, foot and body lotions, working as a hydrator, softener and regenerator of the skin, with a unique ability to penetrate up to seven layers of even the hardest skin. But, it is also a wonderful healer too, of conditions such as eczema, psoriasis and sun-burn, with most 'after-sun' lotions relying on aloe vera to ease the discomfort, repair sun-burnt skin and treat minor burns.

In fact, the powers of aloe vera have proven to be so great, that drinking formulas have been produced, and are particularly big business in the US, allowing this potent product to heal from the inside out. And, the benefits of aloe vera are endless.

Aloe vera provides over 150 health-promoting compounds, including 20 minerals, the most strongly represented being calcium, choline, sodium, iron, potassium, chromium, magnesium, manganese, selenium, copper, phosphorus, and zinc, and even more significantly contains the trace minerals rhodium and iridium, which are currently being used in research experiments for use as a cancer treatment and a non-evasive means of inhibiting the growth of tumours.

It also contains acemannan, which improves cellular metabolism, and regulates the flow of nutrients and waste in and out of cells, destroying parasites, fungus, viruses, bacteria and tumour cells. Acemannan has also been separated from aloe vera in research laboratories and is in the early stages of being used to combat AIDS and feline leukaemia.

Aloe vera also has 12 anthraquinones, which stimulate the bowel, have antibiotic properties, and break up toxic residue, pus and lifeless cells, from wounds, ulcers and other growths, and flush them out, by improving circulation and increasing the blood flow to the region by dilating the capillaries.

Enzymes stimulate metabolism, support, heal and cleanse the digestion system, including the colon, helping to maintain optimum body weight, and improve the level of nutrients absorbed into the bloodstream. They also prevent water retention, are analgesic, anti-inflammatory and aid the immune system. Aloe vera is also antioxidant-rich, providing a further boost to the immune system by detoxifying the blood, and helping to combat free radicals in the body.

This herbal healer also contains salicylic acid which is an aspirin-like compound with 12 different anti-inflammatory substances. It is also an analgesic and antipyretic, capable of reducing fever and pain. It also has antibacterial properties, killing more bacteria and germs in the mouth than any other product, when taken as a drink, and it also supports joint function and muscle mobility.

Saponins, with strong cleansing and antiseptic properties are also present, and perform robustly as an antimicrobial, against bacteria, viruses, fungi and yeast.

This amazing herbal gel also contains 12 vitamins including A, B1, B2, B3, B5, B6, B12, folic acid, C and E, and even more amazing, it contains 18 out of 22 amino acids, more than any other known plant. Amino acids combine to produce vegetable proteins, and even more remarkably aloe vera contains all eight essential amino acids that cannot be produced by the body, and need to be taken in food or drink.

There are 200 varieties of aloes growing in sub-tropical climates around the world, but the best for health and nutrition is the pure clear gel of aloe barbadensis miller, commonly known as aloe vera or 'true' aloe. Aloe Vera Gel produced in the US, is the most consumed and purest aloe vera juice in the world, but Lifestream Aloe Vera Juice produced by Xynergy is available in the UK, and Holland and Barrett also have a range of excellent aloe vera juices. Just 2-4 fl oz taken twice daily is said to help a person maintain good health and feel energised, so parrots benefit hugely, from far less.

Aloe Vera gel should only be attained from plants at least 3-4 years old, to gain the greatest benefits, and they need to be grown in a frost-free environment. Although the gel can be used externally straight from the plant, to hydrate the skin and ease skin irritation, particularly relevant to parrots that feather-pluck, it is recommended that the purest form of juice be sourced, to offer it to a parrot orally, completely risk-free.