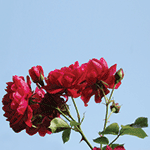 We were recently asked about an article that appeared in Parrots magazine concerning the exceptional properties of rose-water and glycerine.
The article suggested an inexpensive remedy that may help a feather-plucking parrot to regain its plumage, and kick the habit.
If you would like to read more about rose water, the article appeared on page 16 of the February 2011 edition (issue 157). This magazine can be ordered as a printed copy HERE or as an eMag (with instant download) HERE.
Bethia