by Jim Hayward

ORIGINAL HOMELAND:
Widespread in all but the central plateau area of Madagascar. They have also been introduced, with mixed success, into several of small islands in the Indian Ocean: Mauritius and Rodriguez in the Mascarene Islands, on the Island of Mahe (Seychelles), on Comoro and Mafia Islands, and the Island of Zanzibar.
NATURAL HABITAT:
Woodland of an open nature, rather than dense forest.
STATUS IN THE WILD:
They are to be seen in large flocks and live off the wild seeding grasses and make pests of themselves by raiding the cultivated grain and rice crops.
STATUS IN AVICULTURE:
Scarce. Many years ago Madagascars were commonly available in Britain. Sadly this is not the case now, and though in the latter years of importation some consignments were imported, they are not widely bred - owners have an uphill task in persuading them to thrive and multiply in any substantial degree; no large aviary or cage bred stocks are known to exist.
LEVEL OF KEEPER'S EXPERIENCE:
Only suitable for knowledgeable breeders of small and difficult species of psittacine birds.
HARDINESS:
These birds should not be considered to be hardy in confinement, being susceptible to lung trouble in cold and foggy climates.
TYPE OF ACCOMMODATION:
Most birds are very nervous and erratic when confined to cages and are liable to dash themselves against the top and sides. They should have a secluded inside flight with access to a well sheltered outside flight, so they have the security of the inner one at all times of the year and the benefit of the outer one in the warm months. A wooden framework with 19g wire mesh is sufficient. Birds bred in confinement are more confident than wild caught specimens, but great care must still be taken when moving them from one premises to another - the stress involved is sufficient to lower their resistance to cold and infections.
TYPE OF DIET:
They are more suited to small seeds like panicum, Japanese millet, white millet, canary, the tiny seeding grass heads of Poa annua, seed capsules of chickweed. Any sunflower offered should be as small as that which is given to British Finches. Madagascars appreciate green food and apple; a vitamin-mineral supplement can be sprinkled on the latter. A little wholemeal bread and milk can be offered, especially when there are young in the nest.
SEXING:
Hen Madagascars lack the grey plumage and black underwing coverts of the cocks; immatures can be sexed easily as the young cocks show black underwing coverts like those of their fathers; though already having the grey feathering, it has a greenish cast.
SEXUAL MATURITY:
Mature enough to attempt to breed at a year old.
NESTING SEASON IN BRITAIN:
Usually late summer to early autumn.
TYPE OF NEST:
In confinement they will take to a nest-box which should be made appropriately smaller (just over 4" square inside) than those used for larger lovebirds - bearing in mind their comparatively feeble nest building habits and lesser size. They do not line out the sides of the nest nor make a domed structure; they are just as likely to throw anything out of the box as they are to carry material in. Some crumbled, well rotted wood mixed with an amount of soft fine sand should be placed in the bottom of the box as a base. Willow should be available for those birds that find a need for nesting material.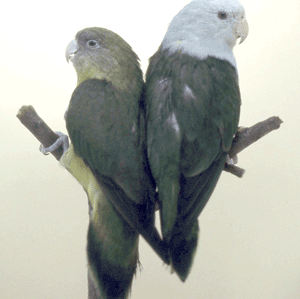 USUAL NUMBER OF EGGS:
Four to six.
INCUBATION PERIOD:
Twenty-two days.
USUAL NUMBER OF YOUNG:
Three to five.
FLEDGING AGE:
Six weeks.
USUAL NUMBER OF CLUTCHES:
If persuaded to nest, possibly two clutches.
NESTING:
whittled bark, leaves and other materials which she carries into the hollow by tucking them under her rump feathers. The cock has a twittering song during the breeding season and is likely to be hen-pecked by his shrewish wife. Nervous birds, they resent interference and once breeding is in progress it is wise to leave the nest well alone.
SPECIAL CONSIDERATIONS:
On several occasions birds have been imported which have had respiratory problems and found to be suffering with infestations of air sac mite; the mite will quickly infest other birds, but the usual cure is to hang a strip of dichlorvos in the bird room so that its vapour will be inhaled by the birds and the mite destroyed. However, I believe there have been some worries in the past that this substance poses a human health risk - so care is needed.
NOISE FACTOR:
Inoffensive twittering calls.
AVAILABILITY:
Extremely spasmodic.
COLOUR VARIETIES:
No mutation colour varieties have been reported.