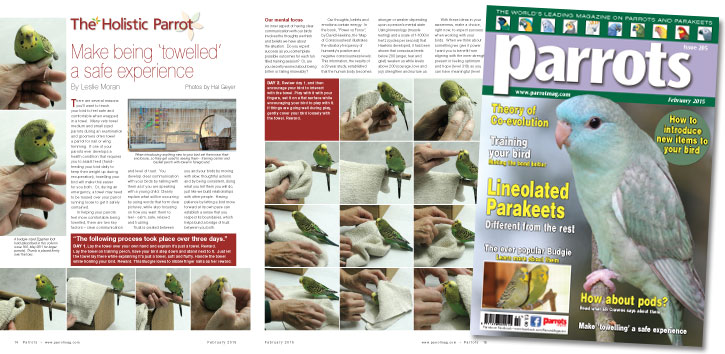 Make being 'towelled' a safe experience
By Leslie Moran

There are several reasons you'll want to teach your bird to feel safe and comfortable when wrapped in a towel.  Many vets towel medium and small sized parrots during an examination and groomers often towel a parrot for nail or wing trimming.  If one of your parrots ever develops a health condition that requires you to assist feed (hand-feeding your bird daily to keep their weight up during recuperation), towelling your bird will make this easier for you both.  Or, during an emergency, a towel may need to be tossed over your parrot running loose to get it safely contained.

In helping your parrots feel more comfortable being towelled, there are two key factors – clear communication and level of trust.  You develop clear communication with your birds by talking with them as if you are speaking with a young child. Clearly explain what will be occurring by using words that form clear pictures, while also focusing on how you want them to
feel - calm, safe, relaxed and trusting.
 
Trust is created between you and your birds by moving with slow, thoughtful actions and by being consistent, doing what you tell them you will do, just like we build relationships with other people.  Having patience by letting a bird move forward at its own pace can establish a sense that you respect its boundaries, which helps build a bridge of trust between you both.