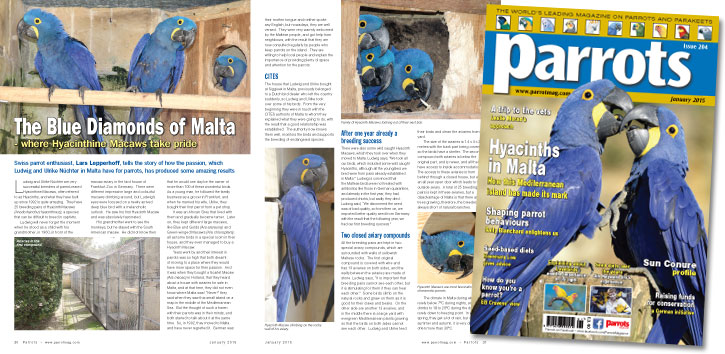 - where Hyacinthine Macaws take pride
Swiss parrot enthusiast, Lars Lepperhoff, tells the story of how the passion, which Ludwig and Ulrike Nüchter in Malta have for parrots, has produced some amazing results.

Ludwig and Ulrike Nüchter are very successful breeders of parent-reared Hyacinthine Macaws, often referred to as Hyacinths, and what they have built up since 1992 is quite amazing.  They have 25 breeding pairs of Hyacinth Macaws (Anodorhynchus hyacinthinus), a species that can be difficult to breed in captivity.

Ludwig will never forget the moment when he stood as a child with his grandmother, in 1960, in front of the macaw aviary in the bird house of Frankfurt Zoo in Germany.  There were different impressive large and colourful macaws climbing around, but Ludwig's eyes were focused on a newly arrived deep blue bird with a melancholic outlook.  He saw his first Hyacinth Macaw and was absolutely fascinated.

His grandmother went to see the monkeys, but he stayed with the South American macaw.  He did not know then that he would one day be the owner of more than 100 of these wonderful birds.  As a young man, he followed the family business as a grocer in Frankfurt, and when he married his wife, Ulrike, they bought their first parrot from a pet shop.