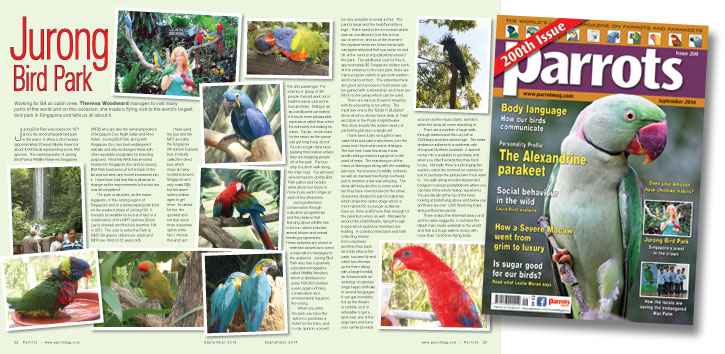 Jurong Bird Park
By Theresa Woodward

Working for BA as cabin crew, Theresa Woodward manages to visit many parts of the world and on this occasion, she made a flying visit to the world's largest bird park in Singapore and tells us all about it.
Jurong Bird Park was opened in 1971 and is the second largest bird park in the world. It offers a 20.2 hectare (approximately 50 acre) hillside haven for about 4,000 birds representing some 440 species. The owner/operator of Jurong Bird Park is Wildlife Reserves Singapore (WRS) who are also the owners/operators of Singapore Zoo, Night Safari and River Safari. Jurong Bird Park, along with Singapore Zoo, has bred endangered animals and also exchanges these with other reputable zoos/parks for breeding purposes. Recently WRS has invested heavily into Singapore Zoo and so Jurong Bird Park has been put to the back of the list and not seen any recent investment into it. I have been told that this is all about to change as the improvements to the zoo are now all completed.
The park is situated, as the name suggests, in the Jurong region of Singapore and is a landscaped park built on the western slope of Jurong Hill. It is easily accessible by bus and taxi or a combination of the MRT stations (Boon Lay is closest) and the bus (number 194 or 251). The cost to enter the Park is S$25 Singapore dollars per adult and S$16 per child (3-12 years old).