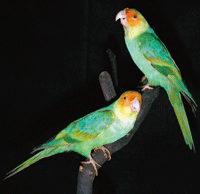 The Carolina parakeet
by Bob Alison
The Carolina Parakeet (Conuropsis carolinensis) vanished into oblivion almost a century ago. It was the only psittacid indigenous to the New World, north of Mexico, to have occurred in recent times. Its disappearance has been linked to largely avoidable events that have since taken place elsewhere, with comparatively devastating consequences with regard to some other parrots. Humankind should have learned an important lesson on parrot conservation as a result of the demise and extinction of the Carolina parakeet. Otherwise, its loss would be in vain.
All that remains to confirm that the Carolina parakeet existed at all are about 720 museum study skins, 16 skeletons, a few eggs, several anecdotal accounts and a couple of illustrations.
Read more in the magazine…
or here on Wikipedia