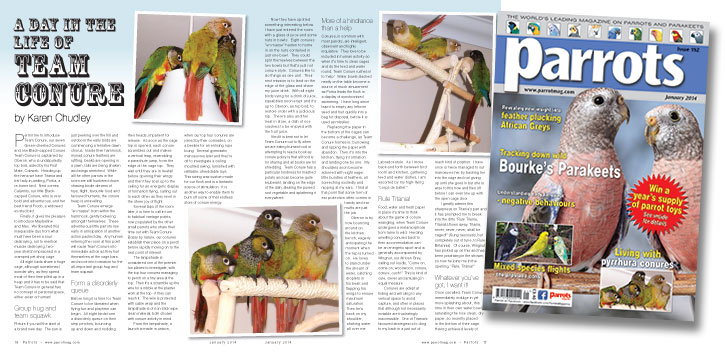 A day in the life of Team Conure
by Karen Chudley
Permit me to introduce Team Conure, our seven Green-cheeked Conures and one Black-capped Conure. Team Conure is captained by Oberon, who is undisputedly top bird, aided by his First Mate, Cobweb. Heading up the hens we have Titania and her lady-in-waiting, Portia, a re-home bird. Next comes Calamity, our little Black-capped Conure, who is very bold and adventurous, and her best friend Frodo, a widowed ex-stud bird.
Finally, it gives me pleasure to introduce Maybelline and Max. We liberated this inseparable duo from what must have been a soul destroying, not to mention muscle destroying, two-year stretch imprisoned in a cramped pet shop cage.

All eight birds share a huge cage, although sometimes I wonder why, as they spend most of their time piled up in a heap and it has to be said that Team Conure in general has no concept of personal space, either avian or human!