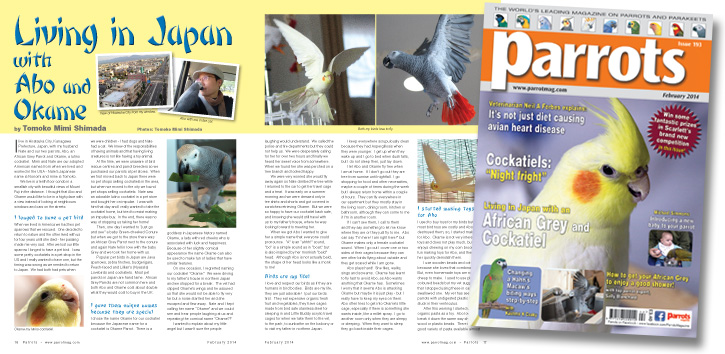 Living in Japan with Abo and Okame
by Tomoko Mimi Shimada
I live in Hiratsuka City, Kanagawa Prefecture, Japan, with my husband Nate and our two parrots, Abo, an African Grey Parrot and Okame, a lutino cockatiel. Mimi and Nate are our adopted American names from when we lived and worked in the USA - Nate's Japanese name is Noriomi and mine is Tomoko.

We live in a tenth floor condo in a smallish city with beautiful views of Mount Fuji in the distance. I thought that Abo and Okame would like to be in a high place with a view instead of looking at neighbours windows and cars on the streets.

When we lived in America we had two pet sparrows that we rescued. One decided to return to nature and the other lived with us for four years until she died - her passing made me very sad. After we lost our little sparrow I longed to have a pet bird. I saw some pretty cockatiels in a pet shop in the US and I really wanted to have one, but the timing was wrong as we needed to return to Japan. We had both had pets when we were children - I had dogs and Nate had a cat. We knew of the responsibilities of having animals and that having living creatures is not like having a toy animal.