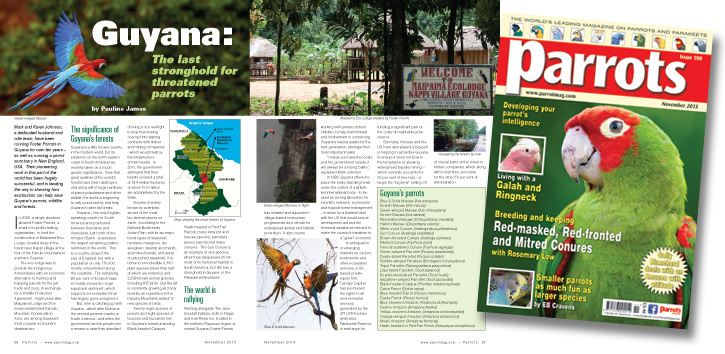 Guyana: The last stronghold for threatened parrots
by Pauline James

Mark and Karen Johnson, a dedicated husband and wife team, have been running Foster Parrots in Guyana for over ten years – as well as running a parrot sanctuary in New England, USA. Their pioneering work in this part of the world has been hugely successful, and is leading the way in showing how ecotourism can help save Guyana's parrots, wildlife and forests.

In 2005, a single donation allowed Foster Parrots, a small non-profit-making organisation, to fund the construction of Maipaima Eco-Lodge, located deep in the forest near Nappi village at the foot of the Kanuki mountains in southern Guyana.

The eco-lodge was to provide the indigenous Amerindians with an economic alternative to hunting and trapping parrots for the pet trade and zoos, in exchange for a Wildlife Protection Agreement. Eight years later Maipaima Lodge and the newly-established Kanuku Mountain Conservation Area, are among Guyana's most popular ecotourism destinations.

Buy Now!