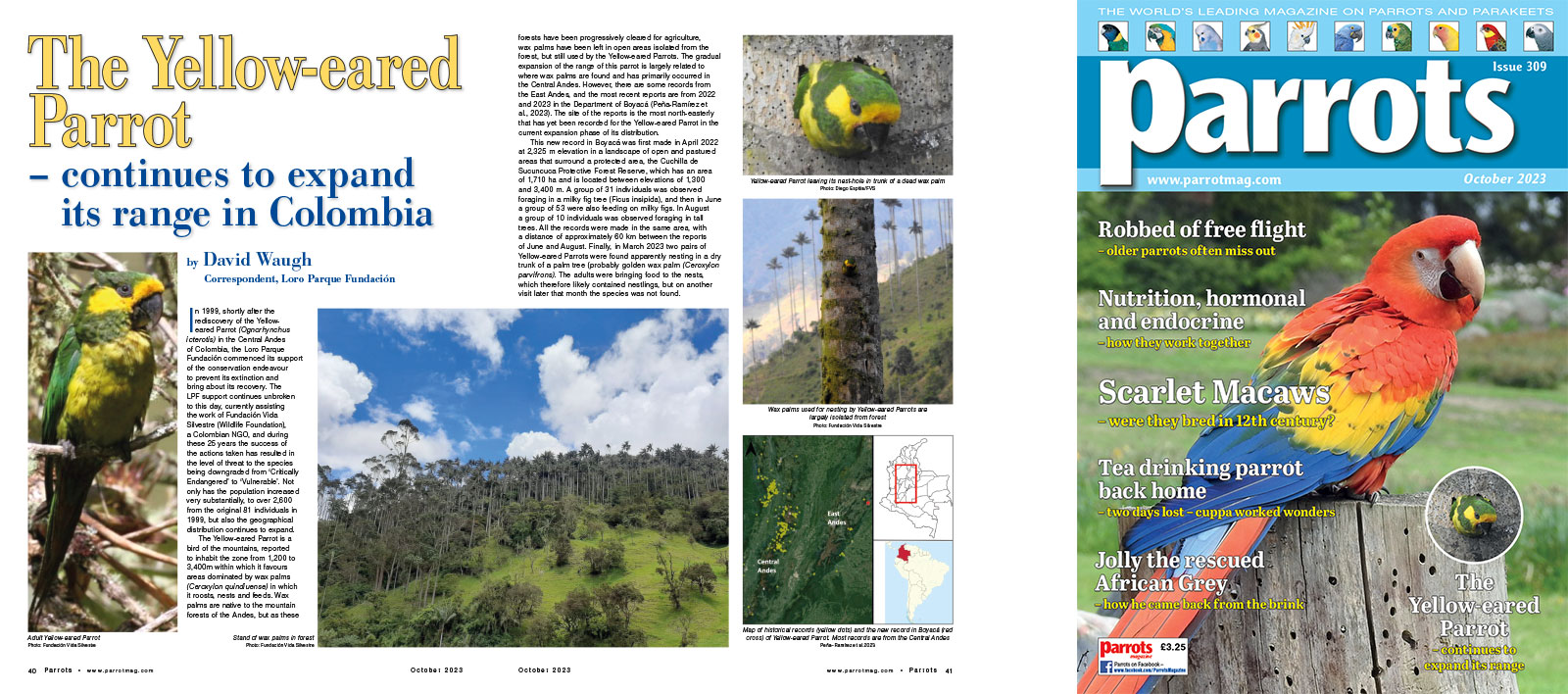 By David Waugh, Correspondent, Loro Parque Fundación
In 1999, shortly after the rediscovery of the Yellow-eared Parrot (Ognorhynchus icterotis) in the Central Andes of Colombia, the Loro Parque Fundación commenced its support of the conservation endeavour to prevent its extinction and bring about its recovery. The LPF support continues unbroken to this day, currently assisting the work of Fundación Vida Silvestre (Wildlife Foundation), a Colombian NGO, and during these 25 years the success of the actions taken has resulted in the level of threat to the species being downgraded from 'Critically Endangered' to 'Vulnerable'. Not only has the population increased very substantially, to over 2,600 from the original 81 individuals in 1999, but also the geographical distribution continues to expand.

The Yellow-eared Parrot is a bird of the mountains, reported to inhabit the zone from 1,200 to 3,400m within which it favours areas dominated by wax palms (Ceroxylon quindiuense) in which it roosts, nests and feeds. Wax palms are native to the mountain forests of the Andes, but as these forests have been progressively cleared for agriculture, wax palms have been left in open areas isolated from the forest, but still used by the Yellow-eared Parrots. The gradual expansion of the range of this parrot is largely related to where wax palms are found and has primarily occurred in the Central Andes. However, there are some records from the East Andes, and the most recent reports are from 2022 and 2023 in the Department of Boyacá (Peña-Ramírez et al., 2023). The site of the reports is the most north-easterly that has yet been recorded for the Yellow-eared Parrot in the current expansion phase of its distribution.