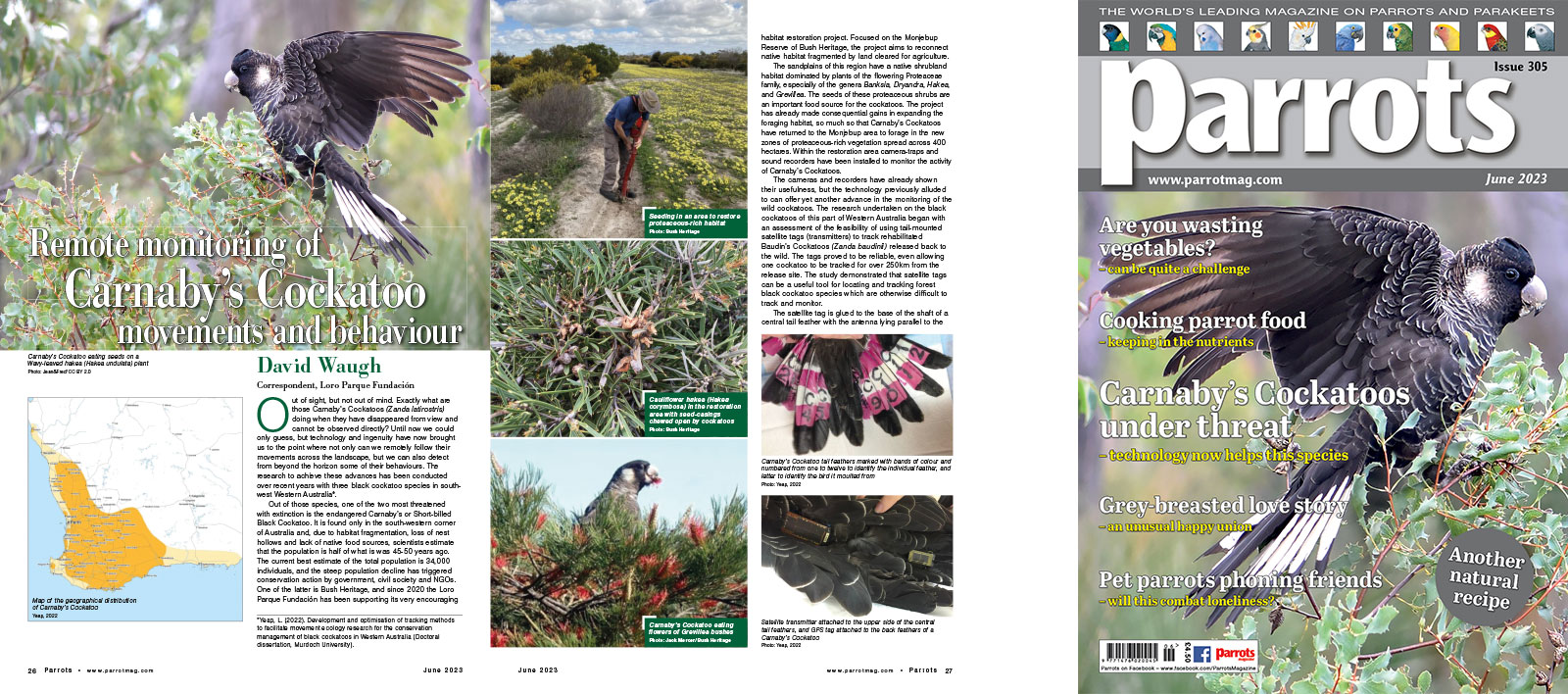 By David Waugh, Correspondent, Loro Parque Fundación
Out of sight, but not out of mind. Exactly what are those Carnaby's Cockatoos (Zanda latirostris) doing when they have disappeared from view and cannot be observed directly? Until now we could only guess, but technology and ingenuity have now brought us to the point where not only can we remotely follow their movements across the landscape, but we can also detect from beyond the horizon some of their behaviours. The research to achieve these advances has been conducted over recent years with three black cockatoo species in south-west Western Australia.

Out of those species, one of the two most threatened with extinction is the endangered Carnaby's or Short-billed Black Cockatoo. It is found only in the south-western corner of Australia and, due to habitat fragmentation, loss of nest hollows and lack of native food sources, scientists estimate that the population is half of what is was 45-50 years ago. The current best estimate of the total population is 34,000 individuals, and the steep population decline has triggered conservation action by government, civil society and NGOs. One of the latter is Bush Heritage, and since 2020 the Loro Parque Fundación has been supporting its very encouraging habitat restoration project. Focused on the Monjebup Reserve of Bush Heritage, the project aims to reconnect native habitat fragmented by land cleared for agriculture.

The sandplains of this region have a native shrubland habitat dominated by plants of the flowering Proteaceae family, especially of the genera Banksia, Dryandra, Hakea, and Grevillea. The seeds of these proteaceous shrubs are an important food source for the cockatoos. The project has already made consequential gains in expanding the foraging habitat, so much so that Carnaby's Cockatoos have returned to the Monjebup area to forage in the new zones of proteaceous-rich vegetation spread across 400 hectares. Within the restoration area camera-traps and sound recorders have been installed to monitor the activity of Carnaby's Cockatoos.