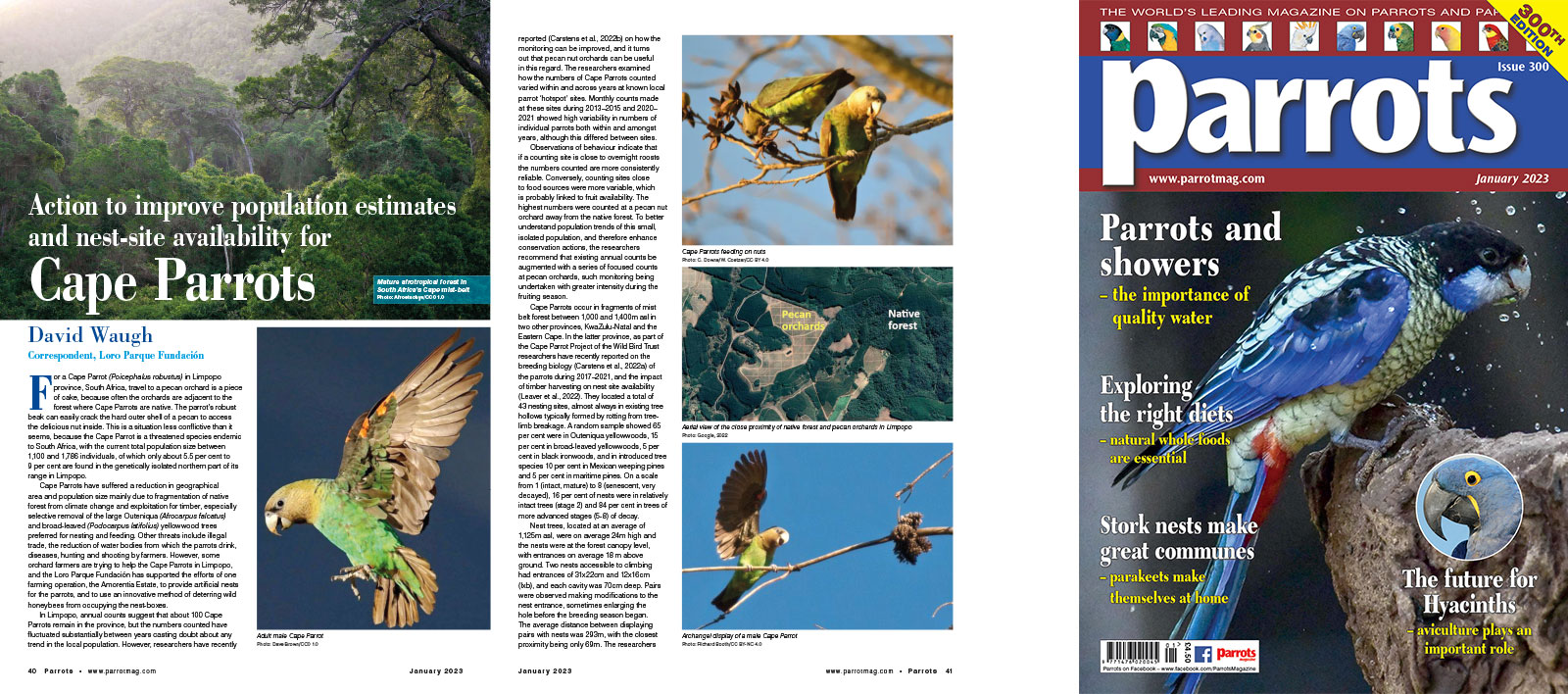 David Waugh, Correspondent, Loro Parque Fundación
For a Cape Parrot (Poicephalus robustus) in Limpopo province, South Africa, travel to a pecan orchard is a piece of cake, because often the orchards are adjacent to the forest where Cape Parrots are native. The parrot's robust beak can easily crack the hard outer shell of a pecan to access the delicious nut inside. This is a situation less conflictive than it seems, because the Cape Parrot is a threatened species endemic to South Africa, with the current total population size between 1,100 and 1,786 individuals, of which only about 5.5 per cent to 9 per cent are found in the genetically isolated northern part of its range in Limpopo.

Cape Parrots have suffered a reduction in geographical area and population size mainly due to fragmentation of native forest from climate change and exploitation for timber, especially selective removal of the large Outeniqua (Afrocarpus falcatus) and broad-leaved (Podocarpus latifolius) yellowwood trees preferred for nesting and feeding. Other threats include illegal trade, the reduction of water bodies from which the parrots drink, diseases, hunting and shooting by farmers. However, some orchard farmers are trying to help the Cape Parrots in Limpopo, and the Loro Parque Fundación has supported the efforts of one farming operation, the Amorentia Estate, to provide artificial nests for the parrots, and to use an innovative method of deterring wild honeybees from occupying the nest-boxes.

In Limpopo, annual counts suggest that about 100 Cape Parrots remain in the province, but the numbers counted have fluctuated substantially between years casting doubt about any trend in the local population. However, researchers have recently reported (Carstens et al., 2022b) on how the monitoring can be improved, and it turns out that pecan nut orchards can be useful in this regard. The researchers examined how the numbers of Cape Parrots counted varied within and across years at known local parrot 'hotspot' sites. Monthly counts made at these sites during 2013–2015 and 2020–2021 showed high variability in numbers of individual parrots both within and amongst years, although this differed between sites.