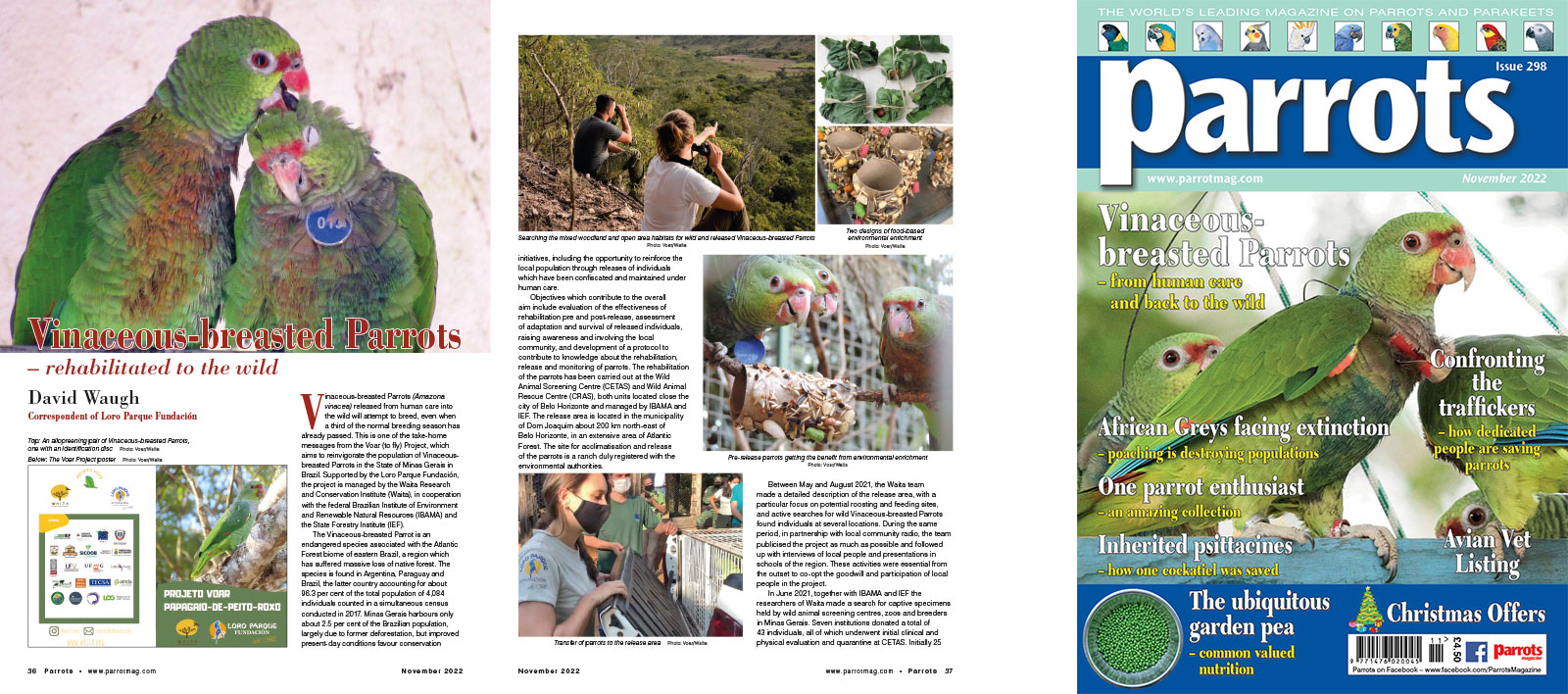 David Waugh, Correspondent of Loro Parque Fundación
Vinaceous-breasted Parrots (Amazona vinacea) released from human care into the wild will attempt to breed, even when a third of the normal breeding season has already passed. This is one of the take-home messages from the Voar (to fly) Project, which aims to reinvigorate the population of Vinaceous-breasted Parrots in the State of Minas Gerais in Brazil. Supported by the Loro Parque Fundación, the project is managed by the Waita Research and Conservation Institute (Waita), in cooperation with the federal Brazilian Institute of Environment and Renewable Natural Resources (IBAMA) and the State Forestry Institute (IEF).

The Vinaceous-breasted Parrot is an endangered species associated with the Atlantic Forest biome of eastern Brazil, a region which has suffered massive loss of native forest. The species is found in Argentina, Paraguay and Brazil, the latter country accounting for about 96.3 per cent of the total population of 4,084 individuals counted in a simultaneous census conducted in 2017. Minas Gerais harbours only about 2.5 per cent of the Brazilian population, largely due to former deforestation, but improved present-day conditions favour conservation initiatives, including the opportunity to reinforce the local population through releases of individuals which have been confiscated and maintained under human care.

Objectives which contribute to the overall aim include evaluation of the effectiveness of rehabilitation pre and post-release, assessment of adaptation and survival of released individuals, raising awareness and involving the local community, and development of a protocol to contribute to knowledge about the rehabilitation, release and monitoring of parrots. The rehabilitation of the parrots has been carried out at the Wild Animal Screening Centre (CETAS) and Wild Animal Rescue Centre (CRAS), both units located close the city of Belo Horizonte and managed by IBAMA and IEF. The release area is located in the municipality of Dom Joaquim about 200 km north-east of Belo Horizonte, in an extensive area of Atlantic Forest. The site for acclimatisation and release of the parrots is a ranch duly registered with the environmental authorities.