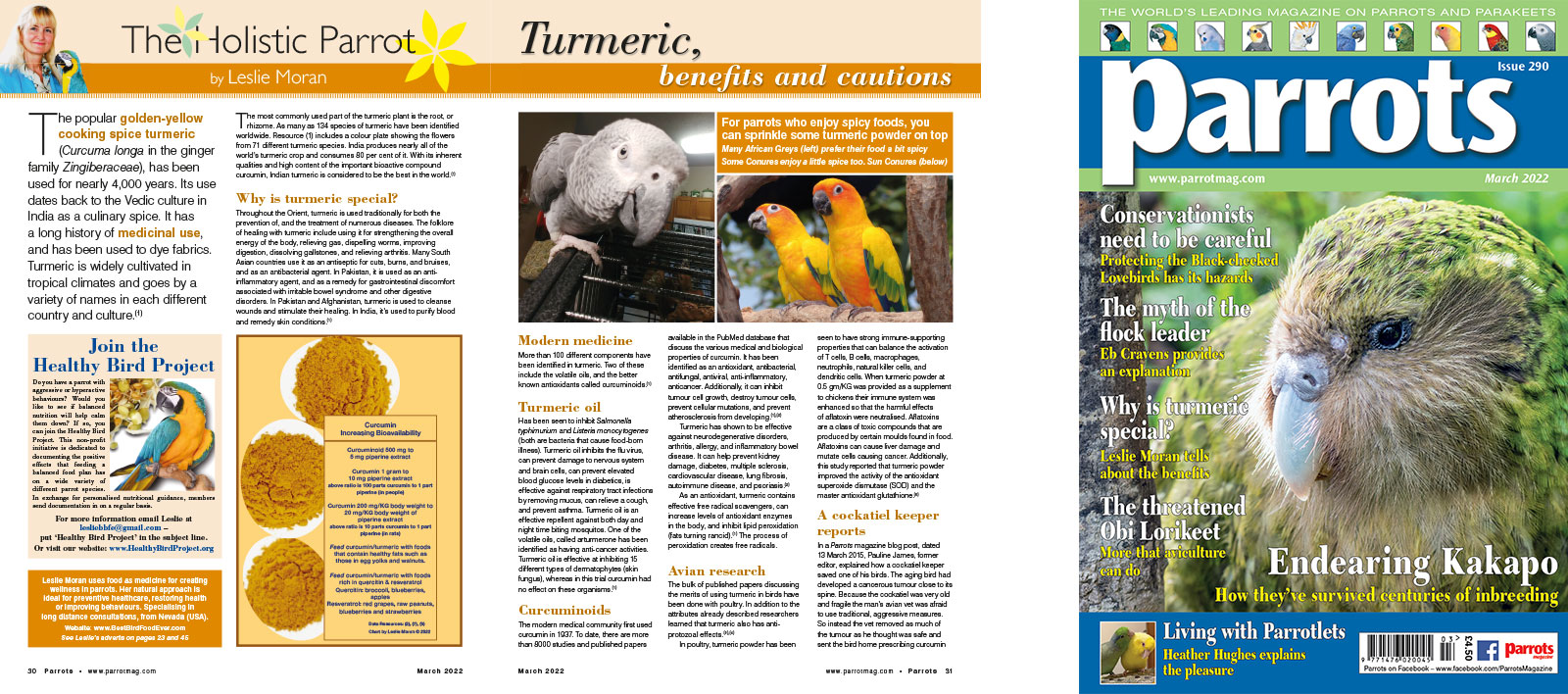 The Holistic Parrot by Leslie Moran

The popular golden-yellow cooking spice turmeric (Curcuma longa in the ginger family Zingiberaceae), has been used for nearly 4,000 years. Its use dates back to the Vedic culture in India as a culinary spice. It has a long history of medicinal use, and has been used to dye fabrics. Turmeric is widely cultivated in tropical climates and goes by a variety of names in each different country and culture.

The most commonly used part of the turmeric plant is the root, or rhizome. As many as 134 species of turmeric have been identified worldwide. Resource (1) includes a colour plate showing the flowers from 71 different turmeric species. India produces nearly all of the world's turmeric crop and consumes 80 per cent of it. With its inherent qualities and high content of the important bioactive compound curcumin, Indian turmeric is considered to be the best in the world.

Throughout the Orient, turmeric is used traditionally for both the prevention of, and the treatment of numerous diseases. The folklore of healing with turmeric include using it for strengthening the overall energy of the body, relieving gas, dispelling worms, improving digestion, dissolving gallstones, and relieving arthritis. Many South Asian countries use it as an antiseptic for cuts, burns, and bruises, and as an antibacterial agent. In Pakistan, it is used as an anti-inflammatory agent, and as a remedy for gastrointestinal discomfort associated with irritable bowel syndrome and other digestive disorders. In Pakistan and Afghanistan, turmeric is used to cleanse wounds and stimulate their healing. In India, it's used to purify blood and remedy skin conditions.