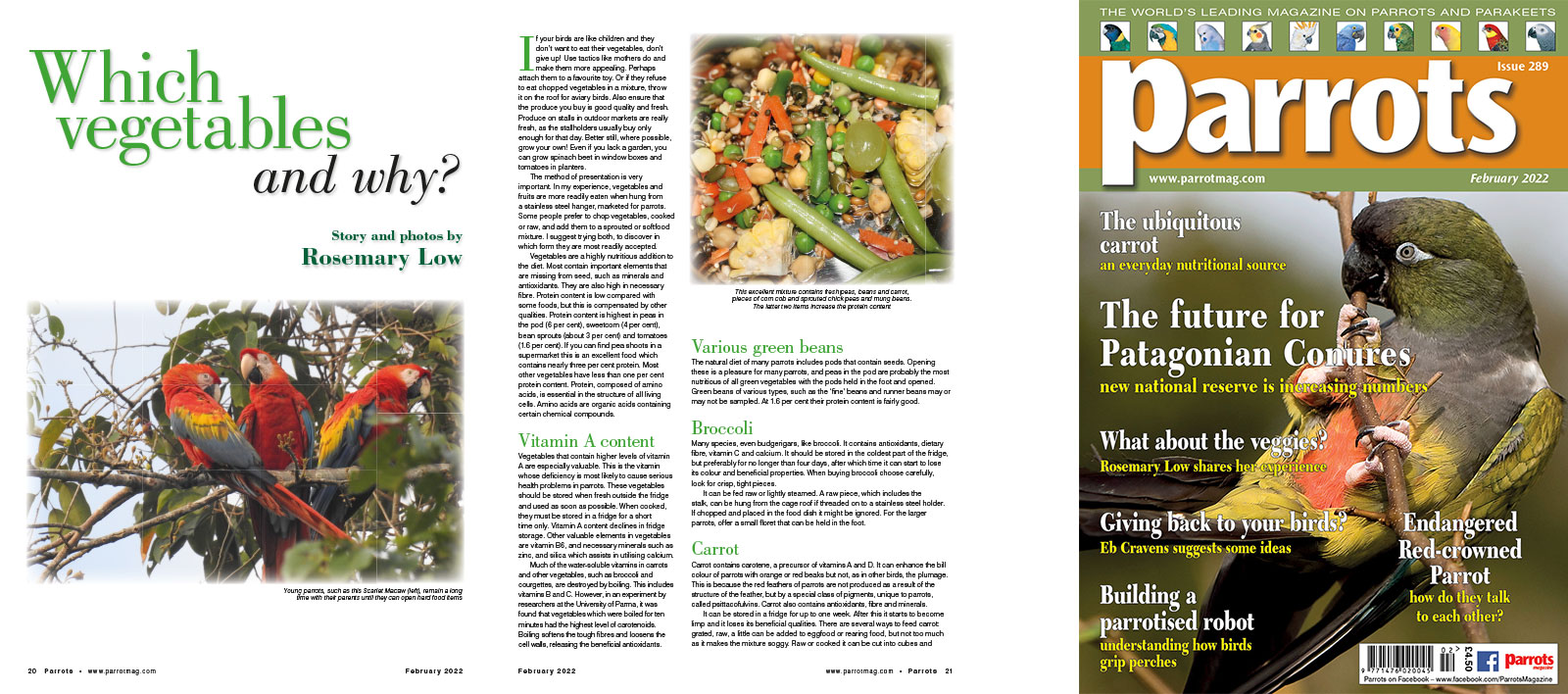 Story and photos by Rosemary Low

If your birds are like children and they don't want to eat their vegetables, don't give up! Use tactics like mothers do and make them more appealing. Perhaps attach them to a favourite toy. Or if they refuse to eat chopped vegetables in a mixture, throw it on the roof for aviary birds. Also ensure that the produce you buy is good quality and fresh. Produce on stalls in outdoor markets are really fresh, as the stallholders usually buy only enough for that day. Better still, where possible, grow your own! Even if you lack a garden, you can grow spinach beet in window boxes and tomatoes in planters.

The method of presentation is very important. In my experience, vegetables and fruits are more readily eaten when hung from a stainless steel hanger, marketed for parrots. Some people prefer to chop vegetables, cooked or raw, and add them to a sprouted or softfood mixture. I suggest trying both, to discover in which form they are most readily accepted.

Vegetables are a highly nutritious addition to the diet. Most contain important elements that are missing from seed, such as minerals and antioxidants. They are also high in necessary fibre. Protein content is low compared with some foods, but this is compensated by other qualities. Protein content is highest in peas in the pod (6 per cent), sweetcorn (4 per cent), bean sprouts (about 3 per cent) and tomatoes (1.6 per cent). If you can find pea shoots in a supermarket this is an excellent food which contains nearly three per cent protein. Most other vegetables have less than one per cent protein content. Protein, composed of amino acids, is essential in the structure of all living cells. Amino acids are organic acids containing certain chemical compounds.