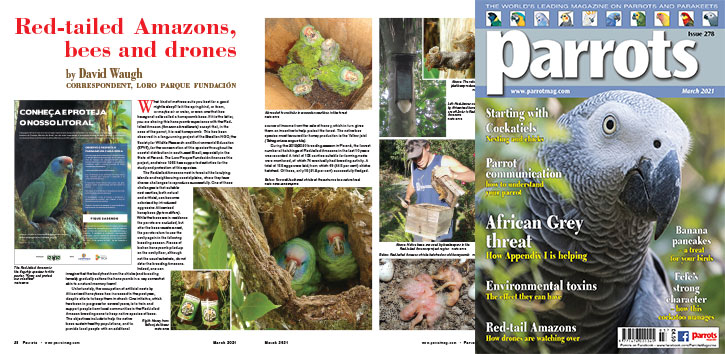 David Waugh, Correspondent, Loro Parque Fundación

What kind of mattress suits you best for a good night's sleep? Is it the spring kind, or foam, or maybe air or water, or even one that has hexagonal cells called a honeycomb base. If it is the latter, you are sharing this honeycomb experience with the Red-tailed Amazon (Amazona brasiliensis) except that, in the case of the parrot, it is real honeycomb. This has been observed in a long-running project of the Brazilian NGO, the Society for Wildlife Research and Environmental Education (SPVS), for the conservation of this species throughout its coastal distribution in south-east Brazil, especially in the State of Paraná. The Loro Parque Fundación finances this project, and since 1995 has supported activities for the study and protection of this species.

The Red-tailed Amazons nest in forest of the low-lying islands and neighbouring coastal plains, where they face diverse challenges to reproduce successfully. One of those challenges is that suitable nest cavities, both natural and artificial, can become colonised by introduced aggressive Africanized honeybees (Apis mellifera). While the bees are in residence the parrots are excluded, but after the bees vacate a nest, the parrots return to use the cavity again in the following breeding season. Pieces of broken honeycomb piled-up on the cavity floor, although not the usual substrate, do not deter the breeding Amazons. Indeed, one can imagine that the body heat from the chicks (and brooding female) gradually softens the honeycomb in a way somewhat akin to a natural memory foam!