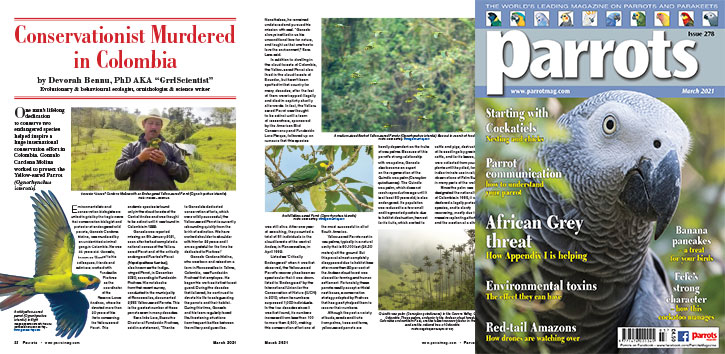 Devorah Bennu, PhD AKA "GrrlScientist", Evolutionary & behavioural ecologist, ornithologist & science writer

One man's lifelong dedication to conserve two endangered species helped inspire a huge international conservation effort in Colombia. Gonzalo Cardona Molina worked to protect the Yellow-eared Parrot (Ognorhynchus icterotis).

Environmentalists and conservation biologists are united in grief by the tragic news that conservation biologist and protector of endangered wild parrots, Gonzalo Cardona Molina, was murdered by an unidentified criminal gang in Colombia. He was 55 years old. Gonzalo, known as 'Gonza' to his colleagues, friends and admirers, worked with Fundación ProAves as the coordinator of the Reserva Loros Andinos, where he devoted more than 20 years of his life to conserving the Yellow-eared Parrot. This endemic species is found only in the cloud forests of the Central Andes and was thought to be extinct until it was found in Colombia in 1999.

Gonzalo was reported missing on 8th January 2021, soon after he had completed a national census of the Yellow-eared Parrot and of the critically endangered Fuertes's Parrot (Hapalopsittaca fuertesi), also known as the Indigo-winged Parrot, in December 2020, according to Fundación ProAves. His notebooks from that recent survey, conducted in the municipality of Roncesvalles, documented 2,895 Yellow-eared Parrots. This is the greatest number of these parrots seen in many decades.