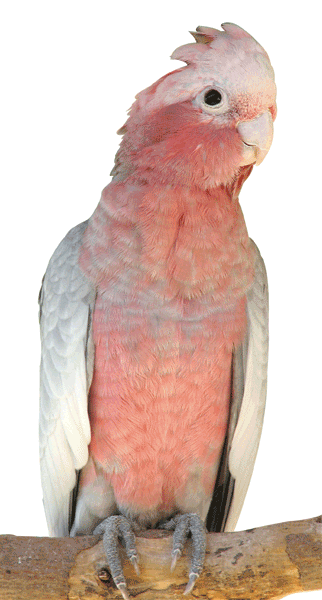 Beautiful Galahs
Helen Masterson
The vibrant pink colour of the birds caught our eye. They were hanging upside down from a telegraph wire and the noise of their screeching was terrifying. We felt sure that they were somehow entangled.
This was our first sighting of Roseate Cockatoos in the wild and we soon learnt that these delightful birds weren't in trouble at all - it was their natural bizarre behaviour. In fact if you say or do anything silly, a typical Australian expletive is - "You bl**dy stupid Galah".
We had many more encounters with Galahs when my husband Keith and I visited Australia some years ago, and it was the beginning of our fascination with this bewitching Australian bird.
On our journeys into the outback, we saw hundreds of these beautiful Galahs but we also came across many in the cities. It was a wonderful sight to see large flocks of them soaring high in the sky. They looked like massive pink and grey floppy clouds and their loud squawking noises would gradually fade away as they disappeared into the blue.
Read more in the magazine…