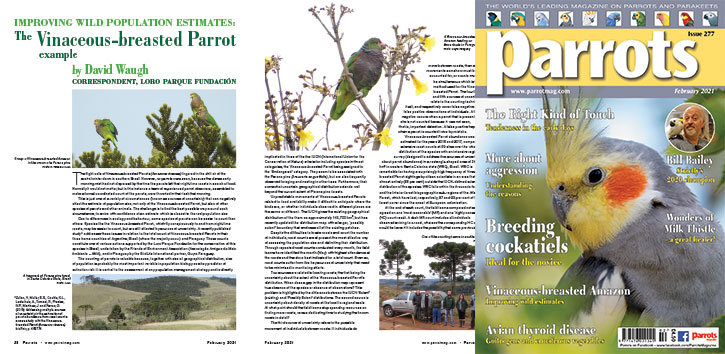 by David Waugh, Correspondent, Loro Parque Fundación

The flight calls of Vinaceous-breasted Parrots (Amazona vinacea) lingered in the chill air of the austral winter dawn in southern Brazil. However, no parrots were seen, because the dense early morning mist had not dispersed by the time the parrots left their night-time roosts in search of food. Normally it would not matter, but in this instance a team of experienced parrot observers, assembled to make a formal coordinated count of the parrots, were thwarted in their task that morning.

This is just one of a variety of circumstances (known as sources of uncertainty) that can negatively affect the estimate of population size, not only of the Vinaceous-breasted Parrot, but also of other species of parrots and other animals. The challenge is to find the best possible way around each circumstance, to arrive with confidence at an estimate which is closest to the real population size.

Due to differences in ecology and behaviour, some species of parrots can be easier to count than others. Species like the Vinaceous-breasted Parrot, which fly conspicuously to and from night-time roosts, may be easier to count, but are still affected by sources of uncertainty. A recently published study addresses these issues in relation to the total count of Vinaceous-breasted Parrots in their three home countries of Argentina, Brazil (where the majority occur) and Paraguay. These counts constitute one of various actions supported by the Loro Parque Fundación for the conservation of this species in Brazil, undertaken by the Friends of Environment Association (Associação Amigos do Meio Ambiente – AMA), and in Paraguay by the BirdLife International partner, Guyra Paraguay.