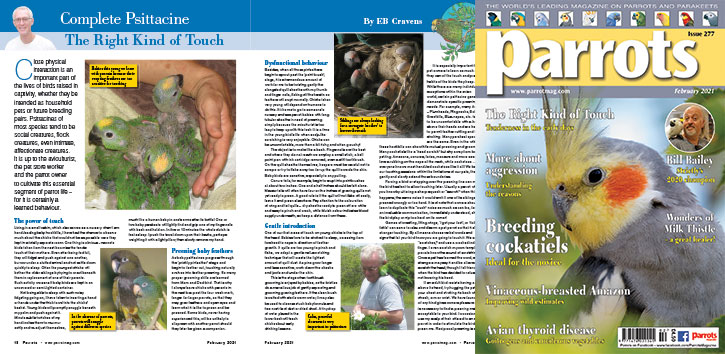 Complete Psittacine by Eb Cravens

Close physical interaction is an important part of the lives of birds raised in captivity, whether they be intended as household pets or future breeding pairs. Psittacines of most species tend to be social creatures, flock creatures, even intimate, affectionate creatures. It is up to the aviculturist, the pet store worker and the parrot owner to cultivate this essential segment of parrot life – for it is certainly a learned behaviour.

iving in a small cabin, which also serves as a nursery when I am hand-feeding baby hookbills, I have had the chance to observe much about the chicks that would not be as possible were they kept in a totally separate room. One thing is obvious - neonate birds taken from the nest box miss the tender touch of their mothers. Even after being fed full, they will fidget and push against one another, burrow under a stuffed animal and not settle down quickly to sleep. Often the youngest chicks will bother the older siblings by trying to crawl beneath them in replacement of one of their parents. Such activity worsens if baby birds are kept in an uncovered or semi-lighted container.

Not being able to sleep with such noisy fidgeting going on, I have taken to inserting a hand or hands under the thick towel into the chicks' basket. Young birds will promptly snuggle beneath my palm and push against it. Minute subtle twitches of my hand incites them to murmur softly and re-adjust themselves, much like a human baby in one's arms after its bottle! One or two baby parakeets will lightly find and grip one of my fingernails with beak and hold on. In five or 10 minutes the whole clutch is fast asleep. I push the towel down upon their backs, perhaps weighting it with a light pillow, then slowly remove my hand.