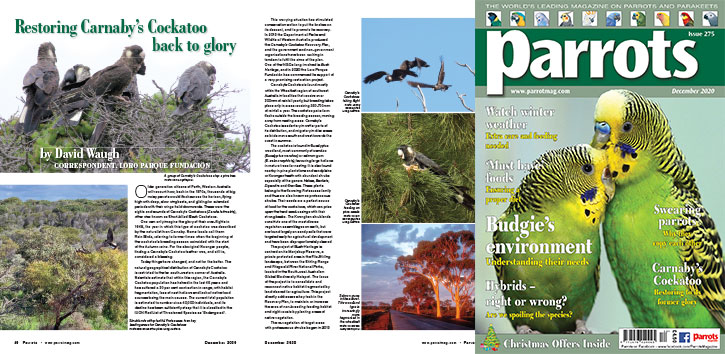 by David Waugh, Correspondent, Loro Parque Fundación

Older generation citizens of Perth, Western Australia will recount how, back in the 1970s, thousands of big noisy parrots would flock across the horizon, flying high with deep, slow wingbeats, and gliding for extended periods with their wings held downwards. These were the sights and sounds of Carnaby's Cockatoos (Zanda latirostris), otherwise known as Short-billed Black Cockatoos.

One can only imagine the glory of their over-flights in 1948, the year in which this type of cockatoo was described by the naturalist Ivan Carnaby. Some locals call them Rain Birds, referring to former times when the beginning of the cockatoo's breeding season coincided with the start of the Autumn rains. For the aboriginal Noongar people, finding a Carnaby's Cockatoo feather was, and still is, considered a blessing.

Today things have changed, and not for the better. The natural geographical distribution of Carnaby's Cockatoo is restricted to the far south-western corner of Australia. Scientists estimate that within this region, the Carnaby's Cockatoo population has halved in the last 45 years and has suffered a 30 per cent contraction in range, with habitat fragmentation, loss of nest hollows and lack of native food sources being the main causes. The current total population is estimated to number circa 40,000 individuals, and its decline has been sufficiently steep that it is classified in the IUCN Red List of Threatened Species as 'Endangered'.