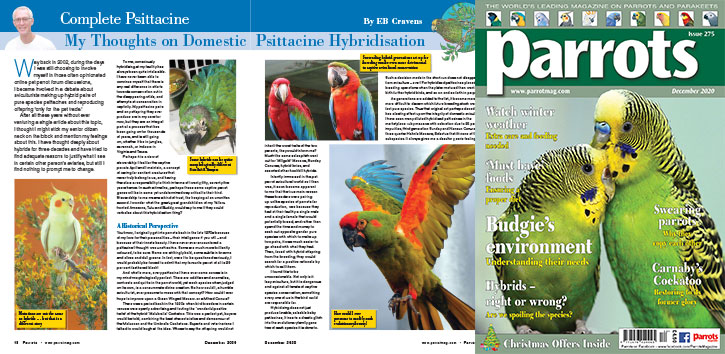 My Thoughts on Domestic Psittacine Hybridisation

Way back in 2002, during the days I was still choosing to involve myself in those often opinionated online pet parrot forum discussions, I became involved in a debate about aviculturists making up hybrid pairs of pure species psittacines and reproducing offspring 'only for the pet trade.'

After all these years without ever venturing a single article about this topic, I thought I might stick my senior citizen neck on the block and mention my feelings about this. I have thought deeply about hybrids for three decades and have tried to find adequate reasons to justify what I see in certain other person's aviaries, but still I find nothing to prompt me to change.

To me, consciously hybridising at my facility has always been quite intolerable. I have never been able to convince myself that there is any real difference in efforts towards conservation out in the disappearing wilds, and attempts at conservation in captivity. My psittacine pairs and any offspring they ever produce are in my care for now, but they are an integral part of a process that has been going on for thousands of years, and is still going on, whether it be in jungles, savannah, or indoors in Virginia and Texas.