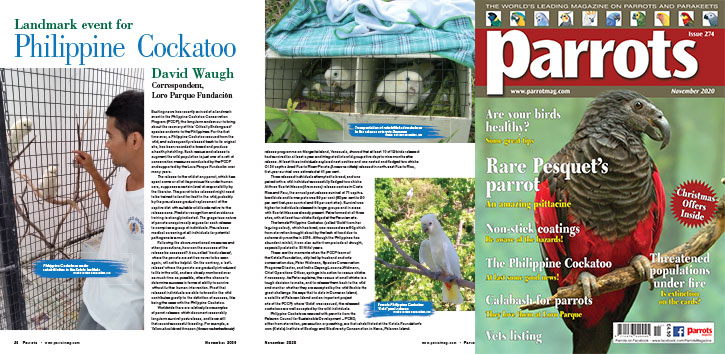 David Waugh, Correspondent, Loro Parque Fundación

Exciting news has recently arrived of a landmark event in the Philippine Cockatoo Conservation Program (PCCP), the long-term endeavour to bring about the recovery of this 'Critically Endangered' species endemic to the Philippines. For the first time ever, a Philippine Cockatoo rescued from the wild, and subsequently released back to its original site, has been recorded to breed and produce a healthy hatchling. Such rescue and release to augment the wild population is just one of a raft of conservation measures conducted by the PCCP and supported by the Loro Parque Fundación over many years.

The release to the wild of any parrot, which has spent some or all of its previous life under human care, supposes a certain level of responsibility by the liberator. The parrot to be released might need to be trained to fend for itself in the wild, probably by the pre-release gradual replacement of the captive diet with suitable wild foods native to the release zone. Predator recognition and avoidance training is strongly indicated. The gregarious nature of parrots unequivocally argues for each release to comprise a group of individuals. Pre-release medical screening of all individuals for potential pathogens is a must.