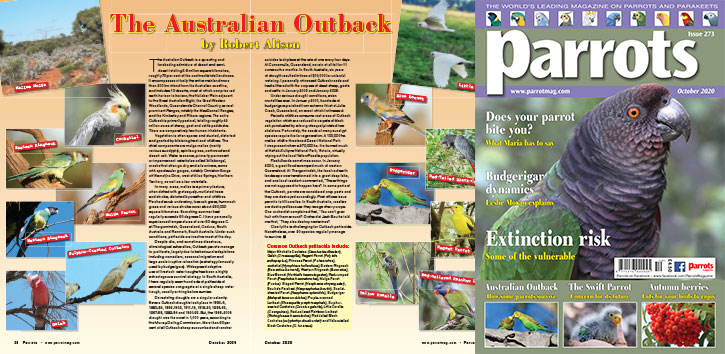 by Robert Alison

The Australian Outback is a sprawling and foreboding admixture of desert and semi-desert totalling 5.6 million square kilometres, roughly 70 per cent of the continent's total landmass. It encompasses virtually the entire mainland more than 200 km inland from the Australian coastline, and includes 10 deserts, most of which comprise red earth horizon to horizon, the Nullabar Plain adjacent to the Great Australian Bight, the Great Western Woodlands, Queensland's Channel Country, several prominent Ranges, notably the MacDonnell Ranges, and the Kimberley and Pilbara regions. The entire Outback is primarily pastoral, totalling roughly 42 million acres of sheep, goat and cattle paddocks. There are comparatively few human inhabitants.

Vegetation is often sparse and stunted, distorted and gnarled by blistering heat and wildfires. The chief components are mulga mallee (mainly various eucalypts), spinifex grass, corkwood and desert oak. Water is scarce, primarily permanent or impermanent waterholes called 'billabongs', creeks that often go dry, and a few rivers, some with spectacular gorges, notably Ormiston Gorge off Namatjira Drive, west of Alice Springs, Northern Territory, as well as a few waterfalls.

In many areas, mallee is a primary feature, often dotted with grotesquely-mutilated trees and shrubs, distorted by weather and wildfires. Parched scrub understory, tussock grass, hummock grass and various shrubs cover about 250,000 square kilometres. Scorching summer heat regularly exceeds 50 degrees C. I have personally experienced temperatures of over 50 degrees C. at Thargomindah, Queensland, Ceduna, South Australia and Renmark, South Australia. Under such conditions, psittacids are inactive most of the day.