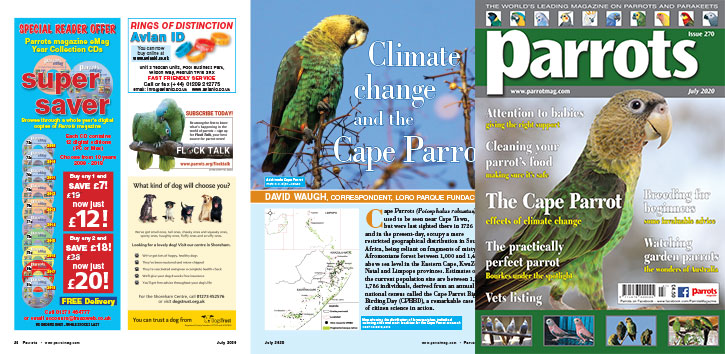 David Waugh, Correspondent, Loro Parque Fundación

Cape Parrots (Poicephalus robustus) used to be seen near Cape Town, but were last sighted there in 1726 and in the present-day, occupy a more restricted geographical distribution in South Africa, being reliant on fragments of misty Afromontane forest between 1,000 and 1,400m above sea level in the Eastern Cape, KwaZulu-Natal and Limpopo provinces. Estimates of the current population size are between 1,100-1,786 individuals, derived from an annual national census called the Cape Parrot Big Birding Day (CPBBD), a remarkable case of citizen science in action.

Cape Parrots have become reduced in numbers and area for several reasons. Fragmentation of forest is linked to climate change and exploitation for timber, in particular the removal of the largest specimens of Yellowwood trees (Podocarpus and Afrocarpus spp.), which are favoured for nesting and feeding. No less than 50 per cent of the Cape Parrot's geographical distribution has lost indigenous forest cover since 2000. Other threats include the reduction of water bodies, which the parrots depend on daily for drinking, illegal trade, hunting, shooting by farmers and diseases, especially Psittacine Beak and Feather Disease (PBFD).

In 2014 the Loro Parque Fundación (LPF) started to help in the conservation of this species, in the same year providing samples from the Cape Parrots in its breeding centre to the Cape Parrot Working Group (CPWG) at the University of KwaZulu-Natal. Genetic analysis of these and other samples resulted in recognition of P. robustus as a separate species, which is now classified as 'Vulnerable' to extinction by BirdLife International, due to its small but stable population. The following year the LPF supported the installation of nest-boxes for Cape Parrots, and a sustainable method to reduce honeybee infestations of the nests at the Amorentia Estate, a fruit and nut producer in Limpopo province. Farmers with orchards have been known to persecute Cape Parrots for the damage they can cause to crops, notably apples and pecan nuts. The actions of Amorentia Estate show that a sector of this farming community knows about the scarcity of this species and its lack of nesting sites, and is willing to help in its conservation.