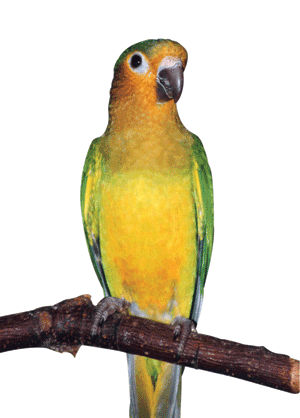 Having spent the last few years breeding many different species of Pyrrhura conures, Mick and Andrea Nye from Kent, decided it was time to expand, and move into the world of Aratinga conures.
Mick told me, "Knowing their reputation for being loud and noisy, we couldn't help but feel a little apprehensive. But, after speaking to a number of breeders who had specialised in Aratingas for a number of years, we decided to take the plunge and bought our first pair of Brown-throated Conures. They were acquired from a friend of a friend, who had kept them in an outside aviary for a year or two. But, it was thought that they had originated from the wild."
The Brown-throated Conure, along with their close relatives the Aztec and Half-moon Conures, are different from all the other species of conures in that they generally go to nest in the wild, in an arboreal termite nest, or in the case of the Aztec, sometimes in a rock crevice. They first of all burrow at an angle, upwards, and then horizontally, deep into the mound to excavate and form their nesting cavity. For this reason, these conures often show a strong reluctance to enter a traditional nest-box in captivity. .
Read more in the magazine…