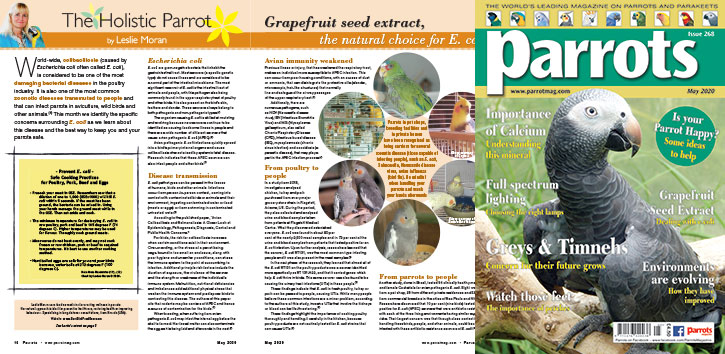 The Holistic Parrot by Leslie Moran

World-wide, colibacillosis (caused by Escherichia coli often called E. coli), is considered to be one of the most damaging bacterial diseases in the poultry industry. It is also one of the most common zoonotic diseases transmuted to people and that can infect parrots in aviculture, wild birds and other animals. This month we identify the specific concerns surrounding E. coli as we learn about this disease and the best way to keep you and your parrots safe.

E. coli are gram-negative bacteria that inhabit the gastrointestinal tract. Most serovars (a specific genetic type) do not cause illness and are considered to be a normal part of the intestinal microbiome. The most significant reservoir of E. coli is the intestinal tract of animals and people, with this pathogen also being commonly found in the upper respiratory tract of poultry and other birds. It is also present on the bird's skin, feathers and dander. These serovars always belong to both pathogenic and non-pathogenic types.

The organism causing E. coli is skilled at mutating and evolving because new serovars continue to be identified as causing foodborne illness in people and there are a wide number of different serovars that cause avian pathogenic E. coli (APEC).