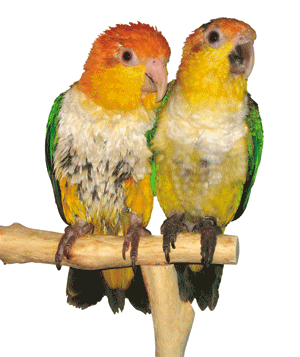 In last month's Parrots, Dave Kramer, from Virginia, USA, described in Part I of this article, the passion he and his family have for parrots and the profound effect that some individuals in their flock have, had on them all. In Part II, Dave carries on his story and tells us about two very special Blue-crowned conures, an adorable White-bellied Caique and a very loving 'special needs' Eclectus hen.
Tammy and I very much endorse the importance of enrichment and sociability for parrots, on a daily basis, and believe it plays a vital part in keeping them contented, well-adjusted, secure and energized.
While in their cages, all our parrots can see and communicate with one another. But, they also have their individual toys and activities too, which require them to both think and reason. This serves to not only keep them occupied, but mentally stimulated too. But, it is their time out of their cages that they look forward to the most, allowing them to socialize, enjoy their freedom, and feel a sense of space.
Read more in the magazine…