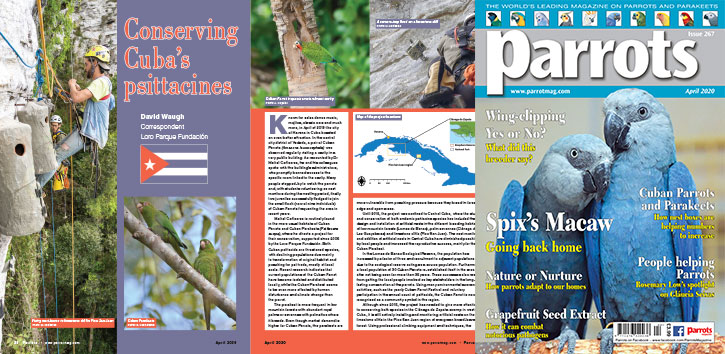 David Waugh, Correspondent, Loro Parque Fundación

Known for salsa dance music, mojitos, classic cars and much more, in April of 2019 the city of Havana in Cuba boasted an even better attraction. In the central city district of Vedado, a pair of Cuban Parrots (Amazona leucocephala) was observed regularly visiting a cavity in a very public building. As recounted by Dr Maikel Cañizares, he and his colleagues spoke with the building's administrators, who promptly banned access to the specific room linked to the cavity. Many people stopped-by to watch the parrots and, with students volunteering as nest monitors during the nestling period, finally two juveniles successfully fledged to join the small flock (now of nine individuals) of Cuban Parrots frequenting the area in recent years.

Maikel Cañizares is routinely found in the more usual habitats of Cuban Parrots and Cuban Parakeets (Psittacara euops), where he directs a project for their conservation, supported since 2005 by the Loro Parque Fundación. Both Cuban psittacids are threatened species, with declining populations due mainly to transformation of original habitat and poaching for pet trade, mostly at local scale. Recent research indicates that current populations of the Cuban Parrot have become isolated and distributed locally, while the Cuban Parakeet seems to be even more affected by human disturbance and climate change than the parrot.

The parakeet is more frequent in low mountain forests with abundant royal palms or savannas with palmettos where it breeds. Even though market demand is higher for Cuban Parrots, the parakeets are more vulnerable from poaching pressure because they breed in forest edge and open areas.