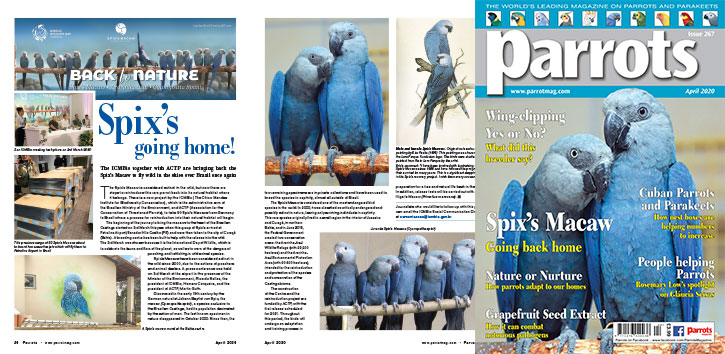 The ICMBio together with ACTP are bringing back the Spix's Macaw to fly wild in the skies over Brazil once again

The Spix's Macaw is considered extinct in the wild, but now there are steps to reintroduce this rare parrot back into its natural habitat where it belongs. There is a new project by the ICMBio (The Chico Mendes Institute for Biodiversity Conservation), which is the administrative arm of the Brazilian Ministry of the Environment, and ACTP (Association for the Conservation of Threatened Parrots), to take 50 Spix's Macaws from Germany to Brazil where a process for reintroduction into their natural habitat will begin.

The beginning of the journey to bring the macaws to the heart of the Brazilian Caatinga started on 3rd March this year when this group of Spix's arrived at Petrolina Airport/Senador Nilo Coelho (PE) and were then taken to the city of Curaçá (Bahia). A breeding centre has been built to help with the release into the wild. The 3rd March was chosen because it is the International Day of Wildlife, which is to celebrate the fauna and flora of the planet, as well as to warn of the dangers of poaching and trafficking in wild animal species.

Spix's Macaws have been considered extinct in the wild since 2000, due to the actions of poachers and animal dealers. A press conference was held on 3rd March at the airport in the presence of the Minister of the Environment, Ricardo Salles, the president of ICMBio, Homero Cerqueira, and the president of ACTP, Martin Guth.