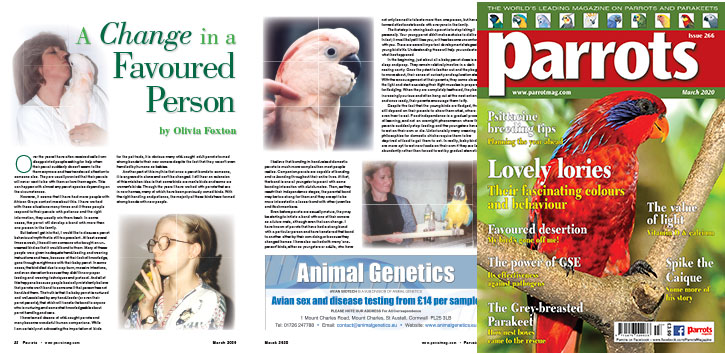 By Olivia Foxton

Over the years I have often received calls from disappointed people asking for help when their parrot suddenly doesn't seem to like them anymore and has transferred affection to someone else. They are usually worried that their parrots will never want to be with them or love them again. This can happen with almost any parrot species depending on the circumstances.

However, it seems that I have had more people with African Greys contact me about this. I have worked with these situations many times and if these people respond to their parrots with patience and the right information, they usually win them back. In some cases, the parrot will develop a bond with more than one person in the family.

But before I get into that, I would like to discuss a parrot behavioural myth that is still too prevalent. At least several times a week, I heard from someone who bought an un-weaned bird so that it would bond to them. Many of these people were given inadequate hand-feeding and weaning instructions and have, because of their lack of knowledge, gone through a nightmare with their baby parrot. In some cases, the bird died due to crop burn, massive infections, and even starvation because they didn't know proper feeding and weaning techniques and protocol. And all of this happens because people basically mistakenly believe that parrots won't bond to someone if that person has not hand-fed them. The truth is that if a baby parrot is nurtured and well-socialised by any hand-feeder (or even their parrot parents), that chick will transfer its bond to anyone who is nurturing and somewhat knowledgeable about parrot handling and care.