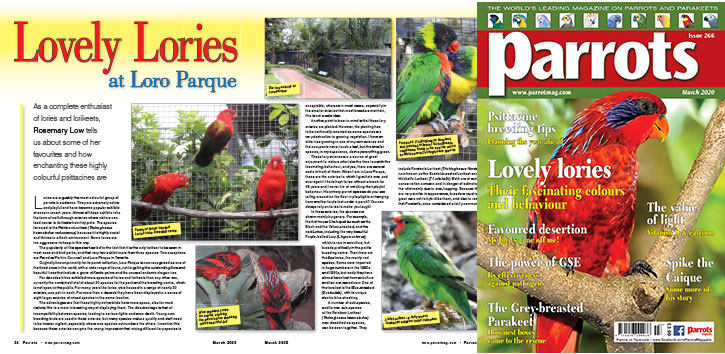 By Rosemary Low

Lories are arguably the most colourful group of parrots in existence. They are extremely active and playful and have become popular exhibits at zoos in recent years. Almost all these exhibits take the form of walk-through aviaries where visitors can feed nectar to lorikeets from tiny pots. The species favoured is the Rainbow Lorikeet (Trichoglossus haematodus moluccanus) because it is highly social and thrives in a flock environment. Some lories are too aggressive to keep in this way.

The popularity of this species has led to the fact that it is the only lorikeet to be seen in most zoos and bird parks, and that very few exhibit more than three species. Two exceptions are Paradise Park in Cornwall and Loro Parque in Tenerife.

Originally known primarily for its parrot collection, Loro Parque is now recognised as one of the finest zoos in the world, with a wide range of fauna, not forgetting the outstanding flora and beautiful trees that include a grove of Kentia palms and the unusual endemic dragon tree.