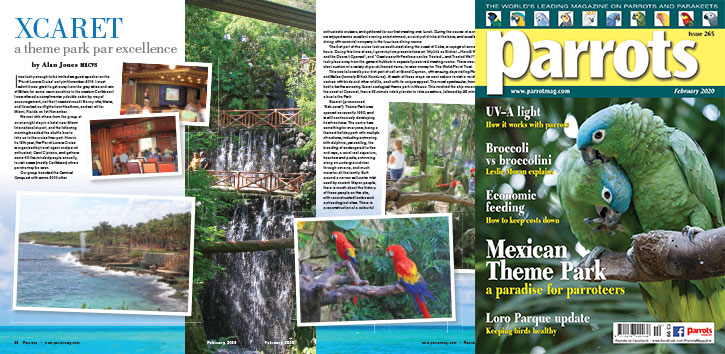 By Alan Jones MRCVS

I was lucky enough to be invited as guest speaker on the 'Parrot Lovers Cruise' early in November 2019. I must admit it was great to get away from the grey skies and rain of Britain for some warm sunshine in the western Caribbean! I was offered a complimentary double cabin by way of encouragement, not that I needed much! So my wife, Maria, and I booked our flights from Heathrow, and set off for Miami, Florida on 1st November.

We met with others from the group at an overnight stay in a hotel near Miami International airport, and the following morning boarded the shuttle bus to take us to the cruise liner port. Now in its 12th year, the Parrot Lovers Cruise is organised by travel agent and parrot enthusiast, Carol Cipriano, and gathers some 40 like-minded people annually, to visit areas (mostly Caribbean) where parrots may be seen.

Our group boarded the Carnival Conquest with some 2000 other enthusiastic cruisers, and gathered for our first meeting over lunch. During the course of a week, we enjoyed some excellent evening entertainment, a variety of drinks at the bars, and excellent dining with convivial company in the luxurious dining rooms.