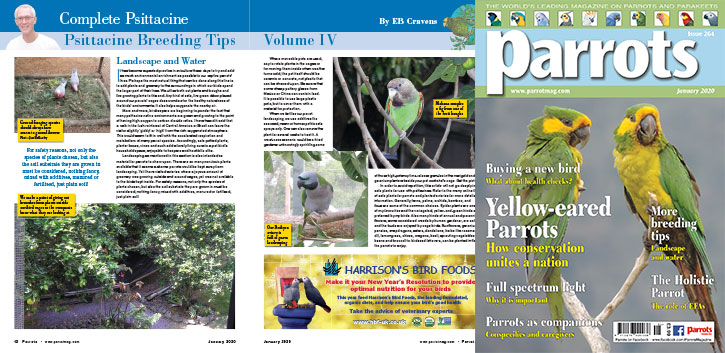 Complete Psittacine by Eb Cravens

It has become expected practice in aviculture these days to try and add as much environmental enrichment as possible to our captive parrots' lives. Perhaps the most natural thing that can be done along this line is to add plants and greenery to the surroundings in which our birds spend the larger part of their lives. We utilise both cut plants and boughs and live growing plants to this end. Any kind of safe, live green décor placed around our parrots' cages does wonders for the healthy naturalness of the birds' environments. It also helps oxygenate the nearby air.

More and more, birdkeepers are beginning to ponder the fact that many psittacine native environments are green and growing to the point of having high oxygen to carbon dioxide ratios. I have heard it said that a walk in the lush rainforest of Central America or Brazil can leave the visitor slightly 'giddy' or 'high' from the rich oxygenated atmosphere. This would seem to fit in well with the accelerated respiration and metabolism of many parrot species. Accordingly, safe potted plants, planter boxes, vines and such add a lovely living aura to a pet bird's household space, enjoyable to keepers and hookbills alike.

Landscaping as mentioned in this section is also intended as material for parrots to chew upon. There are so many non-toxic plants available that it seems a shame parrots would be kept away from landscaping. Yet I have visited aviaries where a joyous amount of greenery was growing outside and around cages, yet was not available to the birds kept inside. For safety reasons, not only the species of plants chosen, but also the soil substrate they are grown in must be considered, nothing fancy, mixed with additives, manured or fertilised, just plain soil!