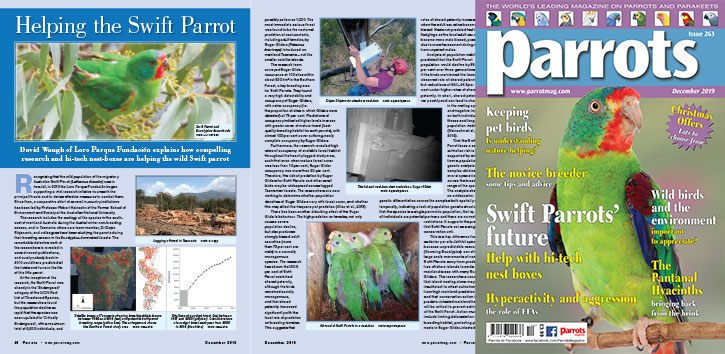 By David Waugh

Recognising that the wild population of the migratory Australian Swift Parrot (Lathamus discolor) was in free-fall, in 2010 the Loro Parque Fundación began supporting a vital research initiative to unearth the principal threats and to devise effective measures to combat them. Since then, a cooperative effort of several in-country institutions has been led by Professor Robert Heinsohn of the Fenner School of Environment and Society at the Australian National University.

The research includes the ecology of the species in the south-east of mainland Australia during the Austral winter non-breeding season, and in Tasmania where core team member, Dr Dejan Stojanovic, and colleagues have been studying the parrots during their breeding season in the Eucalyptus-dominated forests. The remarkable detective work of the researchers is revealed in several recent publications, and surely nobody back in 2010 could have predicted all the twists and turns in the life of this little parrot.

At the inception of the research, the Swift Parrot was already in the 'Endangered' category of the IUCN Red List of Threatened Species, but the researchers found the population decline so rapid that the species was soon up-listed to 'Critically Endangered', with a maximum total of 2,500 individuals, and possibly as few as 1,000. The most immediate serious threat was found to be the nocturnal predation of nest-contents, including adult females, by Sugar Gliders (Petaurus breviceps) introduced on mainland Tasmania – not the smaller satellite islands.