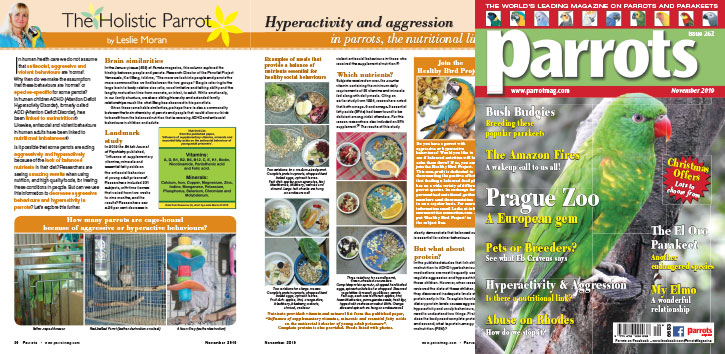 The Holistic Parrot by Leslie Moran

In human health care we do not assume that antisocial, aggressive and violent behaviours are 'normal'. Why then do we make the assumption that these behaviours are 'normal' or species-specific for some parrots? In human children ADHD (Attention Deficit Hyperactivity Disorder), formerly called ADD (Attention Deficit Disorder), has been linked to malnutrition. Likewise, antisocial and violent behaviours in human adults have been linked to nutritional imbalances.

Is it possible that some parrots are acting aggressively and hyperactively because of the lack of balanced nutrients in their diet? Researchers are seeing amazing results when using nutrition, and high quality foods, for treating these conditions in people. But can we use this information to decrease aggressive behaviours and hyperactivity in parrots? Let's explore this further.

In the January issue (252) of Parrots magazine, this column explored the kinship between people and parrots. Research Director of the Parrotlet Project Venezuela, Karl Berg, told me, "The more we look into people and parrots the more commonalities we find between the two groups." Berg is referring to the large brain to body relative size ratio, vocal imitative and talking ability and the lengthy maturation time from neonate, or infant, to adult. While emotionally, in our family structure, we share sibling hierarchy and extended family relationships much like what Berg has observed in his parrotlets.

Given these remarkable similarities, perhaps there is also a commonality between the brain chemistry of parrots and people that would allow our birds to benefit from the balanced nutrition that is reversing ADHD and antisocial behaviours in children and adults.