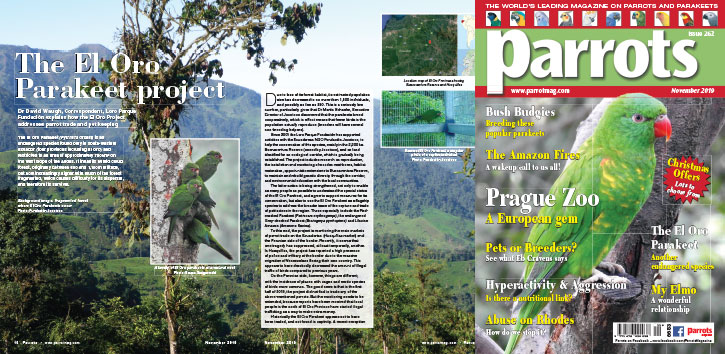 Dr David Waugh, Correspondent, Loro Parque Fundación explains how the El Oro Project addresses parrot trade and pet keeping

The El Oro Parakeet (Pyrrhura orcesi) is an endangered species found only in south-western Ecuador (four provinces including El Oro) and restricted to an area of approximately 750km2 on the west slope of the Andes. It inhabits humid cloud forest, originally between 600 and 1,100m altitude, but now increasingly higher with much of the forest fragmented, which causes difficulty for its dispersal, and therefore its survival.

Due to loss of its forest habitat, its estimated population size has decreased to no more than 1,500 individuals, and possibly as few as 350. This is a seriously low number, particularly given that Dr Martin Schaefer, Executive Director of Jocotoco discovered that the parakeets breed cooperatively, which in effect means that fewer birds in the population actually reproduce (breeders will have several non-breeding helpers).

Since 2001 the Loro Parque Fundación has supported activities with the Ecuadorean NGO Fundación Jocotoco, to help the conservation of this species, mainly in the 2,200 ha Buenaventura Reserve (owned by Jocotoco), and on land identified for an ecological corridor, which is gradually being established. The project includes research on reproduction, the installation and monitoring of wooden nest-boxes, habitat restoration, opportunistic extensions to Buenaventura Reserve, to maintain and rebuild genetic diversity through the corridor, and environmental education with the local communities.