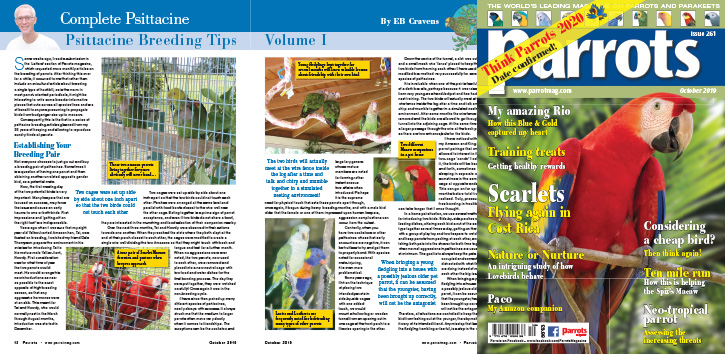 Complete Psittacine by Eb Cravens
Some weeks ago, I read a submission in the 'Letters' section of Parrots magazine, which requested more monthly articles on the breeding of parrots. After thinking this over for a while, it occurred to me that rather than include an avicultural article about breeding a single type of hookbill, as is the norm in most parrot-oriented periodicals, it might be interesting to write some breeder informative pieces that cuts across all species lines and are of benefit to anyone presuming to propagate birds from budgerigar size up to macaws.

Consequently, this is the first in a series of psittacine breeding articles gleaned from my 35 years of keeping and allowing to reproduce sundry kinds of parrots.

Not everyone chooses to just go out and buy a breeding pair of psittacines. Sometimes it is a question of having one parrot and then obtaining another unrelated opposite gender bird, as a potential mate.