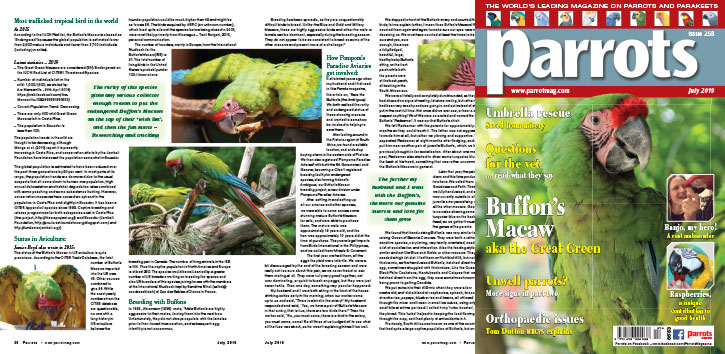 Dr Roslynn Sinclair tells us how her interest and love grew for this most underrated and endangered species
The Buffon's Macaw is the second largest macaw in the world, surpassed only by the Hyacinth Macaw, although some Buffon's individuals may be larger, in weight and/or physical size, than some Hyacinth individuals. In colour, the Buffon's does look quite a bit like the Military to the untrained eye, however it is in the eye that the most definitive distinction can be made.

Both species are basically green, the Buffon's being more of a yellow green, with a bare white facial patch and small black feather lines, sometimes partly red, above a large dark grey beak and red feathers on the forehead. Scattered yellow feathers on the Buffon's body are not uncommon. Scattered maroon (bronze) feathers are also not uncommon, but occasionally birds develop partially maroon feathers over much of their bodies, the reason for which is unknown, but sometimes the feathers revert back to green after a moult. The Military Macaw has a darker look over its body, darker green rather than yellow green, with red on tail feathers rather than red-orange, and is a lot smaller than the Buffon's Macaw.

Buy Now!