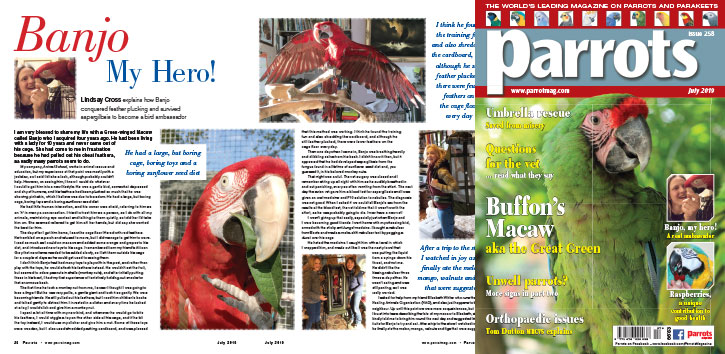 Lindsay Cross explains how Banjo conquered feather plucking and survived aspergillosis to become a bird ambassador.

I am very blessed to share my life with a Green-winged Macaw called Banjo who I acquired four years ago. He had been living with a lady for 10 years and never came out of his cage. She had come to me in frustration because he had pulled out his chest feathers, as sadly many parrots seem to do.

My company, Animal School, works in animal rescue and education, but my experience at that point was mostly with a jackdaw, so I said I'd take a look, although probably couldn't help. However, on seeing him, I knew I would do whatever I could to get him into a new lifestyle. He was a gentle bird, somewhat depressed and shy of humans, and his feathers had been plucked so much that he was showing pink skin, which I believe was due to boredom. He had a large, but boring cage, boring toys and a boring sunflower seed diet.