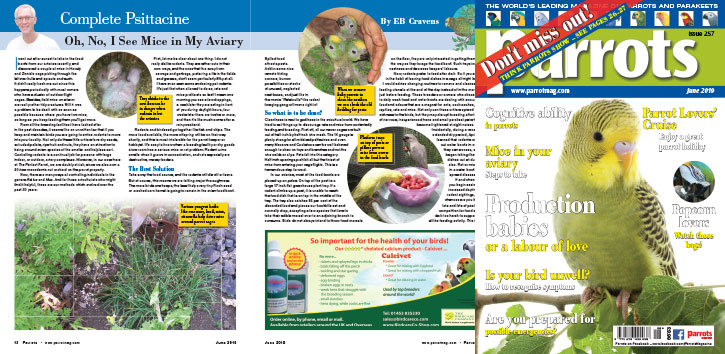 Complete Psittacine by Eb Cravens
I went out after sunset to take in the food bowls from our aviaries recently, and discovered a couple of mice in Howdy and Zinnia's cage picking through the leftover hulls and sprouts and such. It didn't really freak me out since this happens periodically with most owners who have a cluster of outdoor flight cages. Besides, field mice on a farm are really rather tidy creatures. Still it was a problem to be dealt with as soon as possible because where you have two mice, as long as you keep feeding them you'll get more.

From all the breeding facilities I have looked after in the past decades, it seems like an unwritten law that if you keep and maintain birds you are going to entice rodents to move into your locality. Not only do these little critters love dry seeds, extruded pellets, ripe fruit and nuts, they have an attraction to being around avian species of the smaller and helpless sort. Controlling rodents is a continual job for persons with large indoor, or outdoor, aviary complexes. Moreover, in our case here at The Perfect Parrot, we are doubly at risk, since we also own a 20-tree macadamia nut orchard on the parrot property.

Now, there are many ways of controlling individuals in the genera Rattus and Mus. And for those aviculturists who might find it helpful, these are our methods which evolved over the past 30 years:

Buy Now!