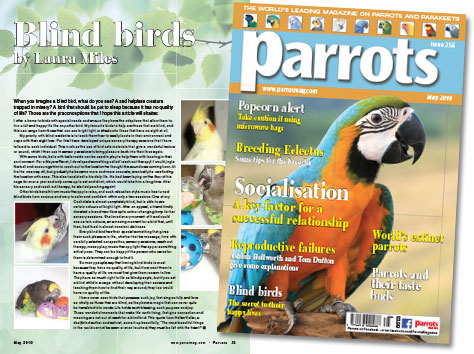 by Laura Miles
When you imagine a blind bird, what do you see? A sad helpless creature trapped in misery? A bird that should be put to sleep because it has no quality of life? Those are the preconceptions that I hope this article will shatter.

I offer a home to birds with special needs and ensure they have the adaptions that allow them to live a full and happy life like any other bird. My favourite birds to help are those that are blind, and this can range from those that can see bright light or shadow to those that have no sight at all.

My priority with blind residents is to teach them how to easily locate in their environment and cope with their sight loss. For this I have developed unique sensory therapy sessions that I have tailored to each individual. This involves the use of bird safe materials that give a wonderful texture or sound, which I then use in sensory sessions to bring pleasure back into their lives again.

Buy Now!