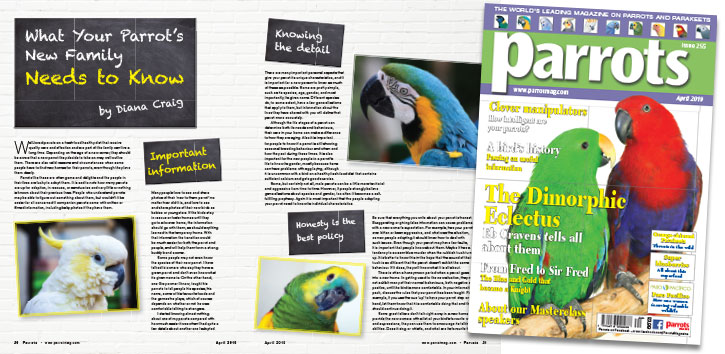 By Diana Craig
Well-loved parrots on a fresh food healthy diet that receive quality care and affection and are part of the family can live a long time. Depending on the age of a new owner, they should be aware that a new parrot they decide to take on may well outlive them. There are also valid reasons and circumstances when some people have to find new homes for their parrots, even though they love them dearly.

Parrots like these are often gems and delights and the people in their lives are lucky to adopt them. It is sad to note how many parrots are up for adoption, in rescues, or sanctuaries and very little or nothing is known about their previous lives. People who understand parrots may be able to figure out something about them, but wouldn't it be easier for all concerned if companion parrots came with written or filmed information, including baby photos if they have them.

Many people love to see and share photos of their 'new to them parrot' no matter how old it is, and love to see and share photos of their new birds as babies or youngsters. If the birds stay in rescue or foster homes until they go to a forever home, the information should go with them, as should anything learned in the temporary home. With that information the transition would be much easier for both the parrot and people, and will help them form a strong buddy bond sooner.

Buy Now!