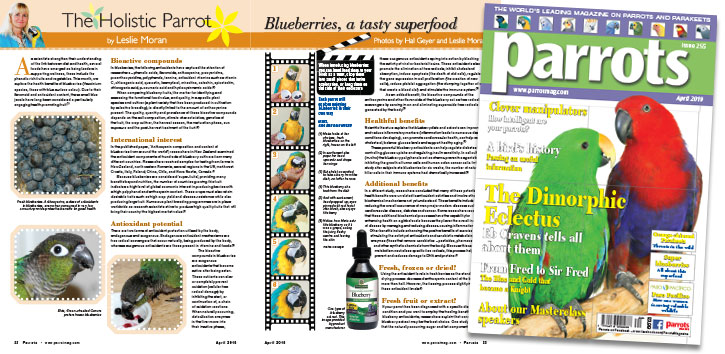 The Holistic Parrot by Leslie Moran
As scientists strengthen their understanding of the link between diet and health, several foods have emerged as being leaders in supporting wellness, these include the phenolic rich fruits and vegetables. This month, we explore the health benefits of blueberries (Vaccinium species, those with blue surface colour). Due to their flavonoid and antioxidant content, these small blue jewels have long been considered a particularly engaging health promoting fruit.

In blueberries, the following antioxidants have captured the attention of researchers – phenolic acids, flavonoids, anthocyanins, procyanidins, proanthocyanidins, polyphenols, tannins, antioxidant vitamins such as vitamin C, chlorogenic acid, quercetin, kaempferol, mirecitina, catechin, epicatechin, chlorogenic acid, p-coumaric acid and hydroxycinnamic acids.

When comparing blueberry fruits, the marker for identifying and assessing the functional food value, and quality, in a specific plant species and cultivar (a plant variety that has been produced in cultivation by selective breeding), is directly linked to the amount of anthocyanins present. The quality, quantity and prevalence of these bioactive compounds depends on the soil composition, climate characteristics, genetics of the fruit, the crop cultivar, the harvest season, the maturation phase, sun exposure and the post-harvest treatment of the fruit.

Buy Now!