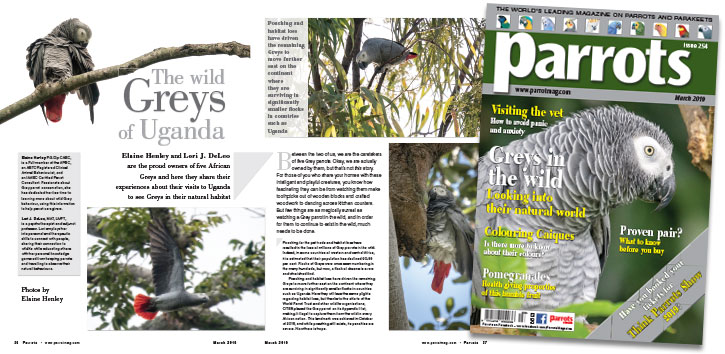 Elaine Henley and Lori J. DeLeo are the proud owners of five African Greys and here they share their experiences about their visits to Uganda to see Greys in their natural habitat
Between the two of us, we are the caretakers of five Grey parrots. Okay, we are actually owned by them, but that's not this story. For those of you who share your homes with these intelligent and playful creatures, you know how fascinating they can be from watching them make toothpicks out of wooden blocks and crafted woodwork to dancing across kitchen counters. But few things are as magically surreal as watching a Grey parrot in the wild, and in order for them to continue to exist in the wild, much needs to be done.

Poaching for the pet trade and habitat loss have resulted in the loss of millions of Grey parrots in the wild. Indeed, in some countries of western and central Africa, it is estimated that their population has declined 90-99 per cent. Flocks of Greys were once seen numbering in the many hundreds, but now, a flock of dozens is a rare and cherished find.

Poaching and habitat loss have driven the remaining Greys to move further east on the continent where they are surviving in significantly smaller flocks in countries such as Uganda. Here they will face the same plights regarding habitat loss, but thanks to the efforts of the World Parrot Trust and other wildlife organisations, CITES placed the Grey parrot on its Appendix I list, making it illegal to capture them from the wild in every African nation. This landmark was achieved in October of 2016, and while poaching still exists, its penalties are severe. Now there is hope.

Buy Now!