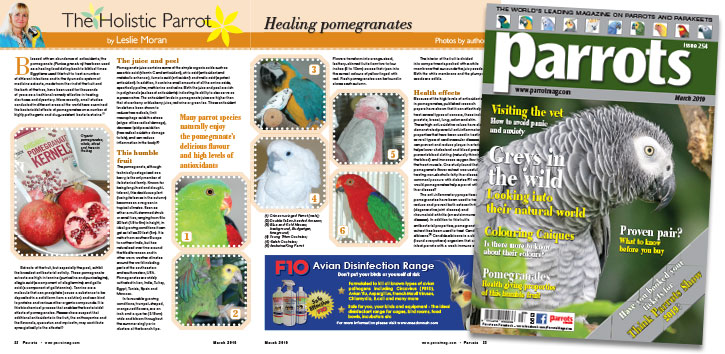 The Holistic Parrot by Leslie Moran
Blessed with an abundance of antioxidants, the pomegranate (Punica granatum) has been used as a healing food dating back to biblical times. Egyptians used this fruit to treat a number of different infections and in the Ayurvedic system of medicine extracts, made from the rind of the fruit and the bark of the tree, have been used for thousands of years as a traditional remedy effective in treating diarrhoea and dysentery. More recently, small studies conducted in different areas of the world have examined the bactericidal effects of pomegranates on a number of highly pathogenic and drug-resistant bacteria strains.

Extracts of the fruit, but especially the peel, exhibit the broadest antibacterial activity. These pomegranate extracts are high in tannins (punicalins and punicalagins), ellagic acid (a component of ellagitannins) and gallic acid (a component of gallotannins). Tannins are a molecule that can precipitate (cause a substance to be deposited in a solid form from a solution) and can bind to proteins and various other organic compounds. It is this biochemical process that enables the bactericidal effects of pomegranates. Researchers suspect that additional antioxidants in the fruit, the anthocyanins and the flavonols, quercetun and myricetin, may contribute synergistically to the effects.

Buy Now!